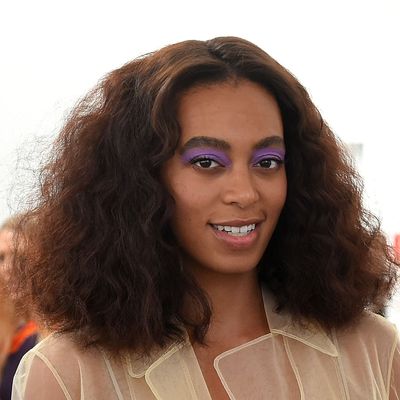 Photo: Ben Gabbe/Getty Images
Solange Knowles was at a Kraftwerk concert in New Orleans with her husband, their son, and their son's friend when the white ladies sitting behind them got nasty. If you've ever heard Kraftwerk, you know it's the kind of German electronic/pop music that makes you want to dance, which is just what Knowles was doing when the women instructed her to sit down … and threw a lime at her back when Knowles wouldn't stop dancing. A lime! Who throws a lime at a Kraftwerk concert? Later, they started dancing, too. What a world.
Knowles tweeted about the experience "[s]o that maybe someone will understand why many of us don't feel safe in many white spaces. We don't 'bring the drama.' Fix yourself." Her tweets brought out the jerks, including some who suggested living in Louisiana is the problem, because apparently only racism happens in the South.
In the end, Knowles didn't let the experience get in the way of having some fun, fun, fun on the "Autobahn." "Bye, haters," she tweeted, alongside a video of herself rocking out.