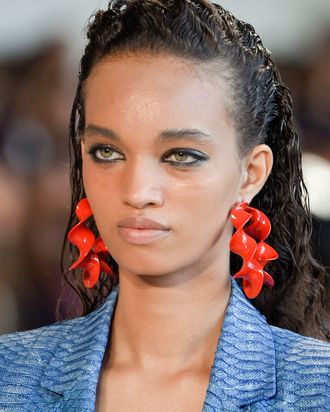 Altuzarra's sweaty, glittery look.
Photo: Peter White/Getty Images
It's day six of Fashion Week, and by now I've learned some useful beauty tricks and some, um, less useful ones. In the beauty school that is Fashion Week, here are five critical tips that I've gleaned from hair and makeup artists backstage. Read on for my favorite use of glitter yet, how to not strobe like you're on Instagram, how to get the prettiest (albeit not very hydrating) lips, and more.
1. How to get natural-looking highlighter. No one backstage is strobing to get C3PO cheeks like you see on Instagram. At Tom Ford on Thursday, models didn't even use highlighter, opting instead for the brand's Illuminating Primer. Although it's traditionally used all over the face as a makeup base, when dotted from above the cheekbones to the orbital bone on models like Lineisy Montero and Amber Valletta, it delicately caught the light without dominating the rest of the look. "It's a more natural-looking way to highlight," said Philippe Chansel, Tom Ford's beauty director of innovation and product development.
2. How to get modern-day PJ Harvey lips. Backstage at Creatures of the Wind, makeup artist Mark Carrasquillo used an old-school makeup trick to make the models' lips glow like embers — inspired by the strong lip seen on '90s alt-girls like PJ Harvey. After coating the models' lips with NARS Cosmetics Dragon Girl, he used a small eyeshadow brush to tap a hot pink blush all over. (He used NARS Coeur Battant from the Guy Bourdin collection, but you could also try Exhibit A.) Jason Wu employed a similar trick, and the powder made the already-rich color look even more saturated and vibrant. Just note that the combination of lipstick plus powder will make your lips feel as dry as the playa during Burning Man.
3. How to sweat glitter. You'll wish your SoulCycle sweat was as pretty as the sparkly look at Altuzarra. Makeup artist Tom Pecheux created a look he described, with a wink, as "sweaty, sexy, naughty" and "sweaty, happy biiiitttches." (As the favored makeup artist to Carine Roitfield, about 95 percent of Pecheux's looks could be described naughty.) Eyes were smudged with a combination of M.A.C. Fluidline in Blacktrack and M.A.C. Studio Eye Gloss in Next Up Neon, a sheer orange gloss which softened the blackness of the eyeliner. Blush went across the models' cheekbones (M.A.C. Mineralize Skinfinish in Perfectly Lit) to give them a desert-like bronzing.
Then, Pecheux dipped a fluffy brush into a very, very, finely milled golden glitter (M.A.C. Glitter in Reflects Bronze), and gently dusted the model's faces. "It's like you know, the father, the son, the holy ghost," he joked, lightly tapping the glitter into the sign of the cross (or more accurately, avoiding the T-zone) across the models' faces. "I can say that — I'm Catholic!" The combination of the glitter and the bronzer made the models look like they were gleaming with a sexy sheen of glittery sweat.

4. How to make your nails holographic. It's hard to find a polish that will make your nails look like mirrors. At 3.1 Philip Lim, Madeline Poole created an even better version of holographic nails by layering silver and white polish. A coat of Sally Hansen's Complete Manicure in Let's Snow acted as a base to the ensuing silvery coats of Gilty Party. The white made the silver look more multidimensional and rich — think of the look as the Chrome Nike Air Max of nails.
5. How to smile your way to pinker cheeks. At Zero + Maria Cornejo, Shiseido Makeup artist Dick Page swirled his brush into a palette of different Shiseido Rouge Rouge lipsticks to create a custom cream "blush" for the cheeks. "It looks more natural this way," he said — the opposite of all the "deadening" makeup looks often seen on Instagram. "I ask the girls to smile and put the blush on where they smile," he explained. He then adds a very thin layer of foundation over the lipstick on the cheeks to make it look more organic. As the old, alleged Audrey Hepburn saying goes, "Happy girls truly are the prettiest."