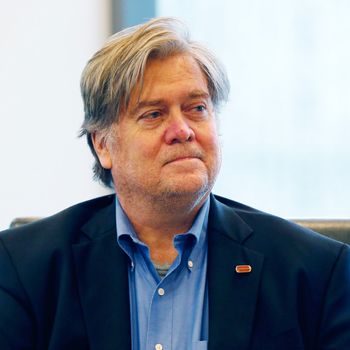 Steve Bannon, former Breitbart News chairman.
Photo: Gerald Herbert/AP Photo
Before Donald Trump hired him as his campaign's chief executive, Steve Bannon — the executive chair of Breitbart News — had never worked on a political campaign. He had, however, been accused by his wife of domestic violence, committed voter fraud, used a gay slur to describe female students at East Coast schools, and, according to a report from BuzzFeed News, described a female co-worker as a "bimbo" and threatened to "kick her ass."
The co-worker in question was Abigail Alling, who worked with Bannon on a project called Biosphere II, the purpose of which was to "stimulate the surface of Mars." In 1994, Alling was charged with staging a break-in that was meant to tip off everyone involved with the project that Bannon couldn't manage it safely.
As part of Alling's defense, her attorneys had a conversation recorded between Bannon and an engineer on the project. In it, he talks about his plan to give Alling a "reality check," to "kick her ass," and to "ram [her accusations] down her fucking throat."
"I am not about to have a 29-year-old bimbo criticize the people at this place for running something … do you realize how mad that made me?" he said at one point during the conversation. Later, he elaborated:
She thinks she's a goddess. She thinks she's above us all. She thinks she's transformed something that we are not worthy of. Well you know what, I don't buy that. I think she's a self-centered, deluded young woman and she is about to get a reality check that I'm going to deliver to her.
According to court documents, Bannon initially denied making any derogatory comments about Alling. But it's hard to get around recorded evidence.