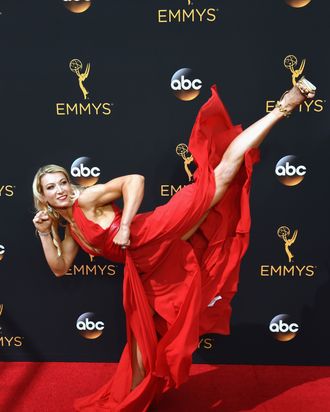 Jessie Graff, Jessie Graff-ing in a House of CB dress.
Photo: Jeff Kravitz/Getty Images
Priyanka Chopra and Hari Nef had a lot of fun twirling in their red gowns on last night's Emmys red carpet. Then there was professional stuntwoman and American Ninja Warrior legend Jessie Graff, who launched herself into this ridiculously high kick, which is her kind of fun.

Graff wrote on Instagram that she tested all of her potential dresses "for function and stuntability." She added: "This one is PERFECT!" I'm going to assume that it was someone's job to clear the area before she unleashed this move.