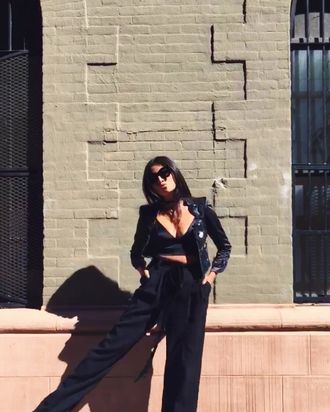 Style Diaries Live is a mini-interview series where we talk to different Fashion Week insiders about their personal style.
Tina Leung is a freelance stylist with 100,000-plus Instagram followers. We spoke to her during Fashion Week about ignoring the weather, stealing her mom's shoes, and the importance of sleep.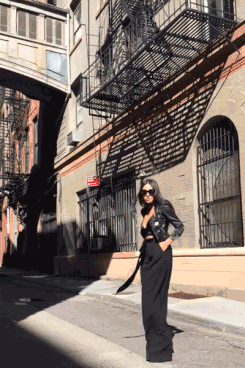 What is your thought process for putting together an outfit for NYFW?
Right now I'm wearing a Marc Jacobs FW16 jacket, pants, and shoes. My bra is from Alexander Wang, my sunglasses are Luisa Leitao, and my choker is from Zana Bayne.
I dress according to my mood. I also factor in what shows are during the day and wear pieces from them. The last thing that I take into account is the weather, which is sometimes troublesome. I once wore new suede pumps and it was snowing out —definitely not the smartest idea.
Earliest memory of putting together an outfit?
I remember borrowing my mother's heels as soon as I could. I think I was 10 or 11? My feet grew first before anything else really, but her shoes were still a size or two too big (she's a US 10). So I would stuff the front with tissue paper and stubbornly wear them out anyway.
If we were to find a stain on your clothes, what would it most likely be from?
Most definitely food. I wouldn't be able to narrow it down to what type of food, though. I eat often, and I eat everything.
Top three favorite Instagram accounts for style inspiration?
@susiebubble, @badgalriri, and … yikes, why can't I think of a third?
If I could be a fabric, I would be:
Such a difficult question! I think if I had to choose just one, I would be gold chain mail.
How do you stay focused with a jam-packed Fashion Week schedule?
I handwrite my schedule before the week. I think writing it down helps a lot to get it in there. Of course I still have it on my phone and laptop, but handwriting things helps me remember things much better. That and gallons of coffee!
Number-one tip for someone new to navigating the fashion industry?
Don't try to do everything all at once. You'll kill yourself and the passion that you have for the industry. Pace yourself and remember to get some sleep at night. This sounds like common sense, but it's very, very important nonetheless.