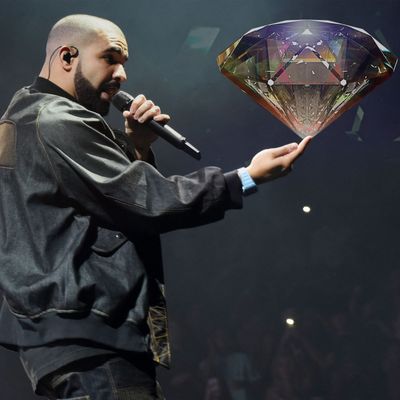 Drake can rest easy now.
Photo: Getty Images
The suspect who allegedly swiped about $3 million in jewelry from Drake's tour bus on Tuesday night apparently didn't get too far. He was already in jail for trespassing elsewhere in Arizona.
Police identified Travion King, 21, from surveillance footage at the Talking Stick Arena in downtown Phoenix, where Drake's tour buses were parked outside during the night of the crime. By the time police figured out who King was from the security footage, he was already in jail for trespassing at Arizona State University. Go figure. He's since been booked on a burglary charge, and the jewelry has been returned.
The crime also appears to have occurred during a short window of time. The man was in and out in 15 minutes, police told the Associated Press. King had done some contract work for the arena and other local venues, Sgt. Vince Lewis of Maricopa County told the Associated Press.
Police also confirmed that the suitcase filled with jewelry wasn't Drake's — it belonged to his DJ, Future The Prince. That didn't stop Drake from freaking out in the morning when he was alerted to the burglary. What an emotional 24-hour roller coaster this must have been for Drake and Future The Prince.