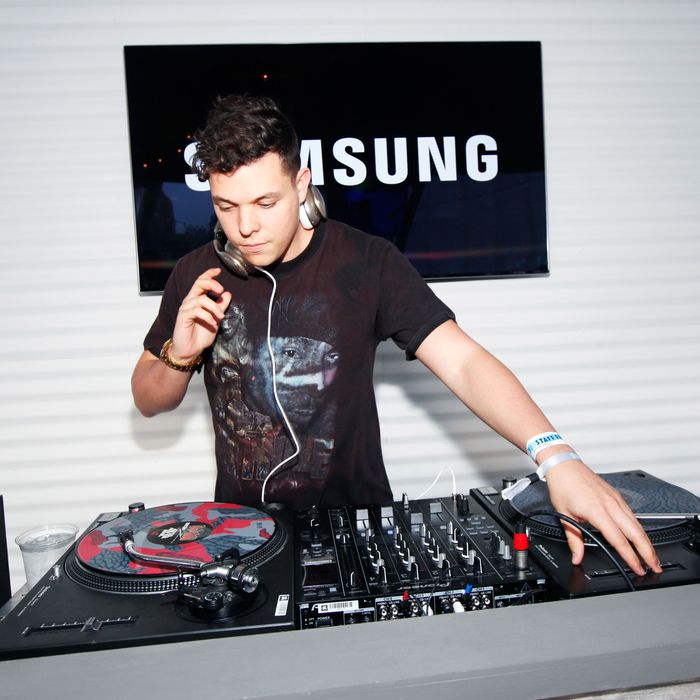 Photo: Gabriel Grams/Getty Images for Samsung
It seems easy enough to become a fashion DJ these days if you have the right number of Instagram followers and a Spotify account, but Jesse Marco grew up in a different time. Back then, turntablists ruled New York nightlife, and for Marco, playing Fashion Week parties was just part of living in the city. "The fashion thing happened by accident," says the DJ, who just played Alexander Wang's party and is set to release a record on Atrak's Fools Gold Records soon.
Marco's trajectory suggests the key to becoming a successful DJ in the fashion world might be not trying too hard to break in. Once everyone from Tom Ford to H&M got wind of his carefree stage presence, he became a regular at industry parties. And an introduction from Zoë Kravitz's cousin DJ Ruckus landed him a spot as Alexander Wang's in-house music curator.
"One of the coolest things about Alex is he's such a good arbiter of taste in terms of being a New Yorker," Marco says. For him, Wang's energy is all about youth culture, which is why you might hear an obscure EDM mix of a song alongside '90s hip-hop at his show. This season, models walked out to "Tomboy" by the young rapper Princess Nokia.
"The scene is so good because there's no barrier to entry; all the kids are up on the same music. Alex and I subscribe to that philosophy," Marco says about the current state of nightlife.
Editors attend Wang shows to see the clothes, but they stay for the music — even if they don't identify with the downtown party-girl type that inspires the brand. Known to get the jaded fashion crowd to loosen up, be they at a giant rave, a Chinatown mall, or in a room full of exotic dancers, Wang's events are the most sought-after invite season after season.
Which isn't to say stuffy fashion parties don't get scandalous, too. "One time I was DJ-ing when I was fairly young, actually, and there was a guy and these two girls and they were having sex on the dance floor of a Fashion Week party. They were full-on, and people were crowding around and watching. It was pretty excessive," Marco remembers, debunking the rumor that no one gets it on during Fashion Week.
Marco also hosts a weekly party, Living Room, that attempts to bring back the spirit pioneered by Leigh Lezark and the Misshapes, whose sets had people of all ethnicities and cultural affiliations dancing side by side. "I feel the energy coming back where super-highbrow fashion is acknowledging the good taste being appreciated in music culture," he said.
Saturday night, after the debut of Wang's spring 2017 collection, which was inspired by lazy California surfer teens, Marco played early aughts hip-hop queen Foxy Brown alongside dance-hall bangers you haven't heard since your Sweet 16. Sounds about right, considering the number of models munching on teen favorites 7-Eleven and McDonald's at the scene.
When asked about his feelings toward the "It" girls who seem to have a monopoly on playing fashion parties, Marco doesn't sound threatened. "Shout out to Hannah Bronfman. I love her. I made her and one of my ex- girlfriends spaghetti in her college dorm a bazillion years ago. I have a lot of respect for anybody who works really hard. I might not just put on my best cocktail attire and hit play. At the end of the day, if you don't care and you take it for granted, it's not gonna last that long."
Hear Jesse Marco's exclusive Alexander Wang party playlist below.
This interview has been edited and condensed.