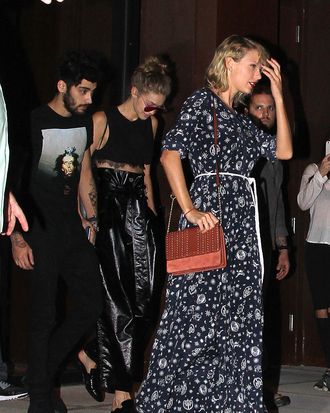 Zayn Malik, Gigi Hadid, and Taylor Swift.
Photo: Said Elatab / Splash News
Professional friend Taylor Swift loves supporting her squad members, whether they're modeling in Fashion Week or trying desperately to have some alone time with their significant other. On Tuesday night, Swift was spotted donning a dress from Gigi Hadid's new Gigi x Tommy collection while hitting the town with Gigi and her boyfriend, Zayn Malik. As you may know, Taylor Swift recently split with "boyfriend" Tom Hiddleston, while Zayn canceled yet another tour date due to his ongoing struggles with anxiety. Sending good vibes to Gigi on this stressful date night.