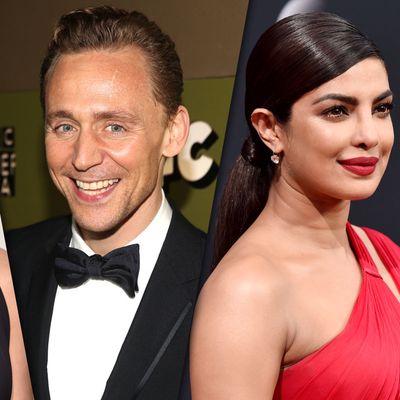 Taylor Swift, Tom Hiddleston, and Priyanka Chopra.
Taylor Swift and the British actor Tom Hiddleston broke up two weeks ago after a brief but completely public summer relationship. Tabloids and gossip columnists guessed up until the breakup that Swift would be Hiddleston's date to the Emmys, but that obviously did not happen. According to E! News, Hiddleston instead moved on with someone else at the awards show last night. The site exclusively reports that Hiddleston was "openly flirting" with his co-presenter Priyanka Chopra.
A source who was apparently very near to the action tells E! that at the after-party, "Tom had his arm around [Priyanka] and held her close. Afterwards, Tom and Priyanka talked closely and were holding hands at one point for a few moments. Priyanka fixed Tom's bow-tie and then the two kissed on both cheeks."
Before the end of the night, Hiddleston and Chopra reportedly exchanged numbers. It is also possible that they met up later. E!'s source continues, "Priyanka and Tom said goodbye and she told him that she will see him later. They left the event about a minute after each other."
On the red carpet before the Emmys, Hiddleston told People that he is "still friends" with Swift. Not for long!