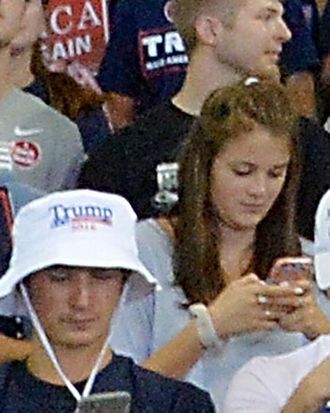 Donald Trump just can't hold teens' attention.
Photo: Sara D. Davis/Getty Images
On Tuesday, Donald Trump held a rally at High Point University in North Carolina to talk about the things that matter to him, such as "bad deals" and various ways in which Hillary Clinton is a "disaster." Overall, the crowd was reportedly made up of younger voters — a group Trump continues to struggle with. Unfortunately, it looks like some of them are still not convinced.
About midway through his speech, one teen girl pulled out her phone to entertain herself, which is totally understandable, except she was standing right behind Trump on live TV.
We feel you.