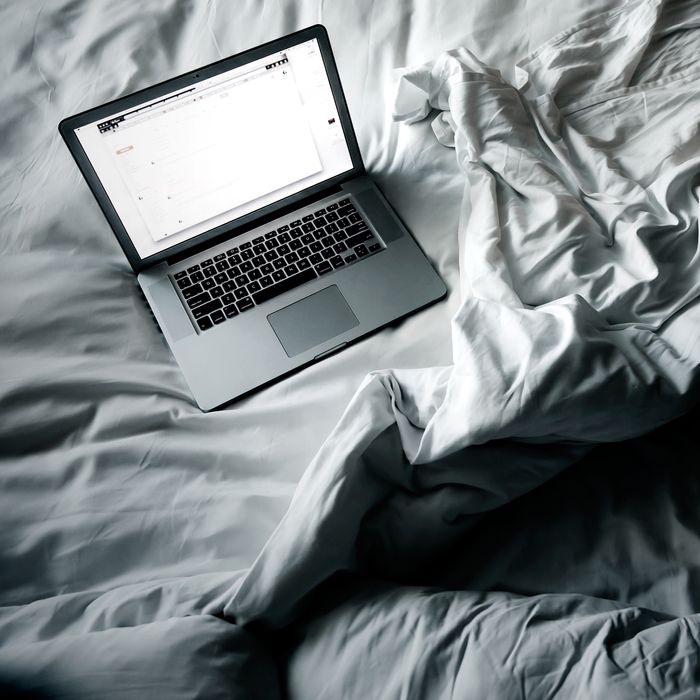 Photo: Inti St Clair/Getty Images
New York's Sex Diaries series asks anonymous city dwellers to record a week in their sex lives — with comic, tragic, often sexy, and always revealing results. This week, a 26-year-old virgin who works in book publishing. Straight, single, Westchester.
DAY ONE
10:00 a.m. It's wonderful to get ten hours of sleep, especially when you don't have work the next day. Normally I get less than six, and that's simply because I like to watch TV and read smutty novels until the wee hours. It makes going to work in the morning a bit better. My life is quite riveting.
2:00 p.m. My mom and teenage brother have left the house to hang out with my aunt for the day. I live with them and it's great, most of the time. Although, Jesus: This when I feel like I've failed at being an adult. I'm still living at with my family at 26. I went to college in the Midwest, and now I'm back home, working at a new job that literally just pays the bills and doesn't give me much emotional fulfillment, in a city that is too expensive. I'm not the only one. This is what having a college degree has wrought for me and many of my friends. This is life.
3:00 p.m. I've made plans to get drinks with friends at a beer garden. I haven't seen them in weeks, although we live in the same town. Work gets in the way. Since I rarely care what I look like, I wear my most comfortable pair of sandals, Birkenstocks, and a denim jacket circa 2005. (It works. Trust me.)
6:00 p.m. We've eaten our weight in fried food, and I'm tipsy after two beers. I'm not at the hugging-my-friends stage yet — that comes one drink later — but I definitely have enough alcohol in my system to speak three times my normal volume and maybe have trouble going up the stairs.
I downloaded Bumble earlier in the week. Now, in my slightly inebriated state, I pass over the reins to my friends. I have to say, Bumble is ten times better than Tinder. However, even though it seems like every hot white dude is on that damn application, it's severely lacking in men of color.
6:15 p.m. My friend is chatting up a French guy on my account. It seems he wants to hang out tonight. My friends are supportive and understand my apprehension with meeting strangers in situations like this, but they kindly encourage me to see him. Plus, they'll be there, so I feel safe. My friend tells the French dude that I'm drunk but ready to mingle.
6:25 p.m. I guess that didn't go well. The message disappeared. I'm used to it at this point.
9:00 p.m. I've sobered up, and we're headed further into Manhattan. We stop at a hipster Jamaican bar and restaurant. I have some seriously conflicted feelings about this place. How is this place gonna call itself "Jamaican" and serve Jamaican food when not one Jamaican person works there? Well, maybe one owns the place, but my friends and I are definitely the only black people when we walk in.
9:15 p.m. These drinks are strong as shit, delicious, and …
9:17 p.m. Yep, I've spilled half my drink on the table. I've gotten drunk again and sobered up real quick.
10:30 p.m. I visit a friend from high school at her place for a quick chat and drink. She's one of my oldest friends — our moms are friends as well. I ask about her roommates, including the hot guy with the steady girlfriend. It's habit at this point. I'm not trying to smash, but he's nice to look at. He looks like a Tommy Hilfiger ad circa 2002: raised on a diet of corn and baseball, with hair the color of the former, well adjusted, maybe crazily unaware of his privilege. I know New York is filled with tons of guys like that; I just don't know them. I don't even know if I want one all up in me. I just know I like to look at them, and look at them I do, on the street and on dating apps.
1:00 a.m. I head back to the suburbs with my original group of friends. The late train is the drunk train, and one of my friends promptly falls asleep. We'd love to stay out later, but we're not about that life anymore. At 26, waking up in your own bed is wonderful.
DAY TWO
11:00 a.m. The house is silent when I wake up from my late night out. It's the perfect time for me to watch some of the gay porn I have on my computer, and perhaps read some more smutty novels. Straight porn doesn't do much for me: Most of it is so misogynistic and violent. I know porn is fantasy, but sometimes it just makes me very uncomfortable and has me questioning how it contributes to rape culture. Why would I want a battering-ram dick stretching my vag and there is no lube involved or any sort of foreplay? That just does nothing for me.
I prefer gay male porn — I love seeing two men in throes of passion. Dicks and hands everywhere, really solid blow-job techniques. I feel like I'm learning a lot and it has opened my mind to the type of sexual encounters I'd consider. I'm definitely down for being the third in a threesome with two bi guys. A dream come true, my friend.
Noon I've watched a few videos: lots of guys kissing and expert cum shots. It definitely makes me hot and bothered, but I can't orgasm. At all. It's frustrating. I always get to the point where I'm on the cusp—legs outstretched, the tension building and flowing through my core, eyes closed — and then, nothing. I have a vibrator that hasn't been used and I don't know when it will. Admittedly, it's probably too large. This is what happens when you go into a sex shop and don't ask questions.
This is what my virginity has given me: years and years of sexual frustration and six shitty kisses with dudes I'll never see again. I didn't want to fuck them anyway. Perhaps I need to see that sex therapist my friend told me about. Here I am thinking about threesomes when I haven't ever been in a relationship or fucked anyone.
5:00 p.m. I hang out with my grandma for a few hours at the home she shares with my grandfather, the place where my mom grew up, the place where most of my childhood memories take place. I have a close-knit family, and I see them almost every day. That's the thing I love most about living home: seeing the people I love. Life is significantly less lonely now than it was in college, and I'm grateful for being able to grow closer to them as I get older. The relationship my grandmother and grandfather has is a model of what I want. It's warm and low-key, hilarious, and built on trust, love, and honesty.
Sometimes my grandma tries to get me to engage with guys who hit on me in stores. I can barely flirt when I'm interested in a guy, and I certainly can't do it when I'm not.
7:00 p.m. My aunt comes over with my younger cousin and her new husband. They were married the week prior, and I was a part of the ceremony. I'm happy that my aunt has found someone she loves and her new husband is sweet, but lord have mercy, he talks too much. I've taken to giving him the cold shoulder on occasion. I can be bitchy when the situation calls for it.
The older I get, the more I question marriage and weddings. I know of people that are married at 26 and plenty that aren't. I understand the major tax benefits of being married, and how some people put you and your partner on a moral pedestal if you are married, but a wedding just seems like a major expenditure for a few hours. It's celebration of love between two people, but I'd much rather spend that money on a house — or better yet, a 3-month backpacking trip across Southeast Asia.
DAY THREE
2:00 p.m. I go see Southside With You with my mom and grandma and silently cry near the end of the film. It's so important to see black love portrayed in film and television in a positive light. These portrayals are rare. Added to the fact it's about our current president and First Lady (in this horror show of an election year) gives it added weight.
After watching this film, I wonder if I'll ever find that. I'm 26 years old. I have consistently conflicted feelings about relationships. It would be great to have someone in my life who's supportive and loyal, with all the trappings of a best friend, but who I'd also like to fuck on the regular. Then again, having to reveal all your vulnerabilities and to compromise (with the real possibility of betrayal) is not something I'm prepared for just yet. I am a major supporter of the hookup, but I'm not sure if I can handle that now either.
I prefer to spend time with my family and by myself, and I can be quite selfish at times. I'd like to better myself first, before I invite someone into my romantic universe. It's a slow process, but it's happening.
(Also, DON'T LEAVE US PRESIDENT OBAMA!!)
2:30 p.m. I drive home from the theater with my family and crap … Damn. I've just gotten into a minor car accident. My first. This is bad. REALLY, REALLY BAD. I can pay for the damage to my mom's car, but my dignity is shattered.
4:00 p.m. I feel like I've been crying for hours. Actually, I have and now I have a major headache and my self-hatred is so high I can't even watch the last few episodes of Stranger Things. Dammit.
6:00 p.m. I call my dad, who lives in another state, and as usual he gives me some perspective. My mother is a saint. She could have yelled at me from here to kingdom come, but I'm sure she wanted to spare me, since she saw how upset I was. My parents are a solid duo, even though they aren't together. I couldn't have asked for more supportive, caring parents. I just want to do right by them and myself always, but that's impossible.
DAY FOUR
6:30 a.m. Time to go to work. I don't know how I'm going to handle this commute once daylight savings begins and I'm walking through the damn dark wilderness to get to the train.
10:00 a.m. My friend comes over to my desk, and we talk for a few minutes. I basically have a nervous breakdown telling her the story of my car accident. The shame is still raw. But the more I talk about it, the less it hurts.
11:00 a.m. I get up from my desk to go to the restroom and pass the desk of the one of my colleagues. The first day I started working there, he immediately caught my eye: Tall, blond, glasses, hipster haircut. But the more I see him, the more I'm convinced he's not that attractive. He's standoffish and not particularly friendly. Your looks can only get you so far, buddy, and this lady is not into it anymore.
2:00 p.m. I listen to way too much music at the office, preparing myself for the concert I'm going to tonight.
8:00 p.m. The opening act is a musician I love, and his stage presence is electrifying. He reminds me of Jimi Hendrix, and I am not complaining. I sway to the music, scanning the crowd between songs to see if anyone catches my attention. Tonight is not my night, so the music the only thing I'm focused on.
It's been ten months since I've kissed anyone, and I've gotten somewhat comfortable with my lack of action. After that drunken experience (which was followed by an island vacation where I almost drunkenly cried in a club), I'm sure I can hold off a bit longer.
DAY FIVE
6:30 a.m. Came home late from the show and woke up early. I'm used to this.
4:30 p.m. Work was work, but as I get on the train, I think of the random attractive man I've seen three times in the span of six days in near the office. The first time I saw his face, I couldn't help but stare. He would occasionally look my way, but I'm a major wuss.
The last time I saw him, he was with a woman I assumed to be his girlfriend. I'm not surprised at all. He definitely seemed like the type of guy to be in a steady relationship — he had that kind of face, if that makes sense. If I happen to see you again, handsome stranger, I'll just look from afar. That's my modus operandi.
7:00 p.m. I arrive home. My mom is watching Criminal Minds and my brother is hanging out with a neighbor. Shemar Moore's face is too beautiful. I could look at that man all day long and not get tired. Give me Shemar Moore at 26 — hell, give me him at 45 and I'd be a happy woman.
DAY SIX
6:30 p.m. Wake up. Flawless! Not really, but thanks anyway, Beyoncé.
11:00 a.m. I love Adele, but I hadn't listened to her new album until today. And shit, doing so at work was a bad idea. "All I Ask" has me on the verge of tears as I'm reading emails. I'm a sucker for ballads, and although I haven't experienced love like Adele has, I feel her anguish.
11:15 a.m. I've definitely listened to this damn song five times in a row. Adele is good for the soul. Perhaps by her power and the power of Beyoncé, I can figure out a way to make all my dreams and desires a reality.
DAY SEVEN
8:30 a.m. I arrive to the office with a few emails that I know will not get answered until Monday. This is what happens when you work for a British company. That, and the novelty of British accents wearing off quite quickly.
9:30 a.m. My friend comes over to my desk, and we talk about her boyfriend for a bit. He's awesome, and after all the shitty dates she's been on, she deserves someone who treats her well. I'm happy for her. (And I'd much rather listen to her conversation than do actual work I'm getting paid pennies for.)
4:30 p.m. I leave the office as swiftly as I can. I'm mentally prepared for the weekend ahead. I'm hanging out with former co-workers I haven't seen in a while, and my atrocious dancing skills will come out to play. Tomorrow, maybe I'll scope out the local talent and yearn from afar; maybe use Bumble and try my luck again. I ought to enjoy my youth a little bit more in the last few days of summer.