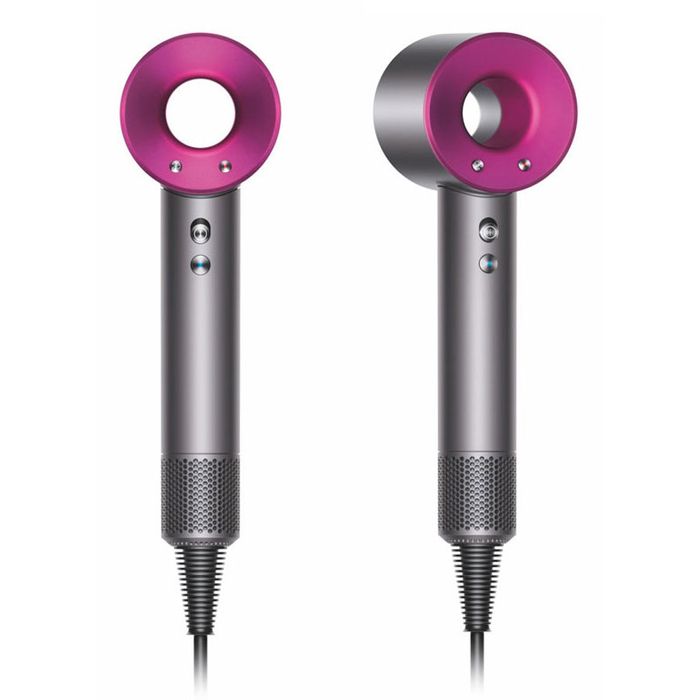 The Dyson Supersonic is worth the $399 price tag.
Photo: Courtesy of Dyson
Do you have any idea what it's like to be James Dyson in a world filled with dirt and inefficiency? He lives, he told me, "in a constant state of dissatisfaction."
I'd like to feel sorry for him, but (a) he's a billionaire and (b) I'm grateful. Sir James turns his unease into inventions that improve the sometimes dirty, always inefficient annoyances of daily life. His current triumph is the blow-dryer, which he and his 103 engineers transformed into a sexy, supersonic object of desire. Is it a coincidence that it resembles the Hitachi Magic Wand vibrator?
Before masterminding the Dyson Supersonic, which he introduced last week in Manhattan after an end-of-days downpour ("It's a good night for blow-dryers!" said a greeter), Sir James didn't fuss with his own hair. He actually grew it into a wavy, silvery head of magnificence for the occasion, demonstrating his commitment to marketing. On the event's stage, he took the dryer and aimed it at himself, Beyoncé-style. His hair rippled and flowed.
I bought my first blow-dryer when I was 13, a turquoise-blue Max by Gillette. It was the Easy-Bake Oven of hair tools, a hot breath, and only moderately faster than air-drying by sticking my head out the backseat window of our station wagon. Each increase in wattage over the years has sped up the process but not added much to the fun. I had high hopes for the Dyson.
Jen Atkin, the celebrity hairstylist and Dyson Supersonic spokesperson, styled my hair at the event space before the party started. She's the one in the video on the New York Times website that caused a sensation. When the video first went up, her father called her, thrilled. "You're in the New York Times!" Her husband called her, not quite as thrilled. "What are you doing in a bathrobe in a hotel bed, and where's your wedding ring?" But that's another story.
Atkin squirted some of her new Ouai Soft Mousse into her hand and then mashed it on the roots of my hair. "Millennials don't understand mousse; they didn't grow up in the '80s," she said. "And people don't know that they have to put it on the roots and not just the exterior of the hair." She added some Ouai Wave Spray and popped on the diffuser attachment (all the Dyson attachments are magnetized). My straight hair has never experienced a diffuser or wave spray, and the result of Atkin's scrunching was remarkable. She had given me something foreign: cool hair.
Does anyone like to blow-dry her hair? Not me, but the Dyson changed that. Still, it took some getting used to. The much-smaller motor is in the handle, making a well-balanced, lightweight machine, but the vent is at the base of the handle, and I kept covering it with my hand and interrupting the airflow. At one point this must have caused the motor to overheat, because it switched off abruptly. The vent does have its advantages: It won't suck in your hair to be tangled in the motor, and it's easy to slip off and clean — not that I ever will. The machine is so quiet you can conduct a conversation without shouting. Dyson explained that the motor speed is ultrasonic and thus beyond the audible range of the human ear. I'm convinced that years of daily blow-drying will destroy my hearing, and now the Dyson might save it. It also eliminates shoulder strain and arm fatigue, reducing the need for Atkin's twice-weekly visits to the chiropractor. That may justify its $399 price tag.
The Supersonic, true to its name, dried my hair faster than my traditional machine. My hair and scalp didn't feel scorched, since the heat never climbs above about 300 degrees. I did blow a fuse when I used it in a B-and-B over the weekend, but I'm not sure the electrical system was up to the task.
"Of all the products I've made, this is the one everyone is most interested in," Dyson said, "because you use it every day. And because it contributes to beauty."
The sadists at the Dyson labs subjected the Supersonic to terrible abuse, dropping it, stepping on it, smashing it again and again in a drawer. They even submerged it in water, which caused a gasp from the audience. "Don't do this," Sir James quickly added, though he had told me earlier that you could probably drop it in your bath without dire consequences. "Water is actually a very poor conductor of electricity," he said. "So it won't kill you." I took his word for it.
Buy it: $399 at Neiman Marcus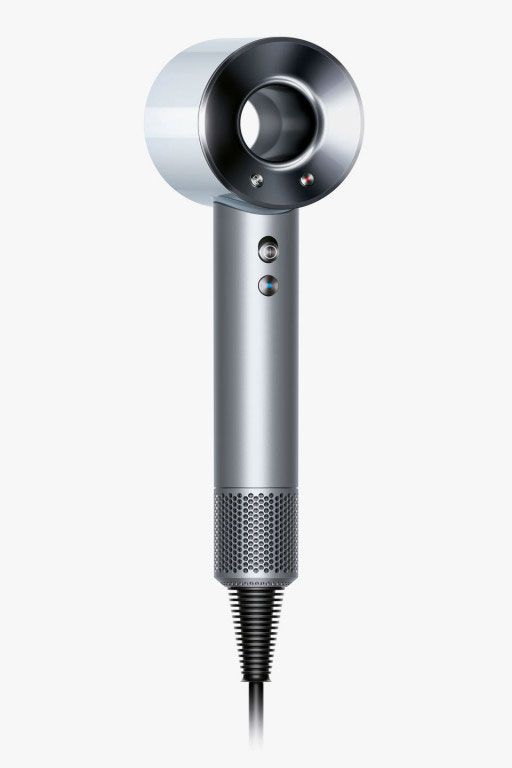 The Strategist is a series of smart, obsessive shopping guides from the New York Magazine section of the same name. We've scoured the web to bring you the best of the best. Some of our latest conquests include rolling luggage, water bottles, umbrellas, Korean beauty products, white T-shirts, and a nail clipper. If you buy something through our links, we may earn an affiliate commission. Please note that all prices are subject to change.