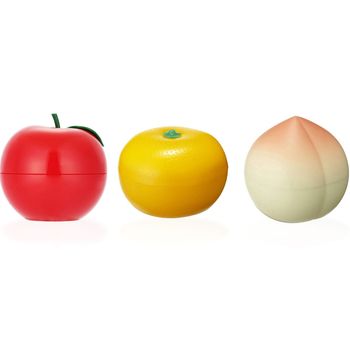 Beauty packaging in the 1970s was like Dutch painting in the 1600s or television in our current decade: an incontestable golden age. Avon made lip compacts shaped like egg yolks. The tanning butter looked like a cheese wheel and the perfume was bottled in a miniature grandfather clock. It's as though a drunken child were in charge of packaging design and wouldn't rest until all quotidien objects were shrunken down, re-created.
The Korean beauty brand Tony Moly offers several items that leverage the magic of novelty packaging. My favorites among them are the hand creams. You can buy them individually (red apple is my favorite — it smells like a true Fuji apple, not "apple flavor") or as a set, which contains a peach and a tangerine along with the apple.
I recommend the set. Here is why.
After you finish the hand creams — which are lightly scented and nongreasy — you will want to rinse out the gleaming containers and repurpose them for small sundries. I keep the apple in my purse for sticks of gum, the peach in my desk for Advil, and the tangerine on my kitchen counter for vitamins.
Other things you could store in these containers include raw almonds for snacking, paper clips for paper-clipping, (legal) drugs for various purposes, or candy to sneak into a movie theater. If you want to be conceptually pure, you can synchronize your containers with their contents — storing vitamin C tablets inside the tangerine, for example.
As a source of private glee, the containers are invaluable. As a source of social hilarity, they are reliable. It's never not fun to offer someone an Advil out of a lustrous synthetic peach, or to shake your plastic apple at a co-worker while explaining that "One of these a day keeps the doctor away" before popping the top to reveal a heap of peanut M&M'S.
Bon appétit!
Buy the set: $16 at Amazon
The Strategist is a series of smart, obsessive shopping guides from the New York Magazine section of the same name. We've scoured the web to bring you the best of the best. Some of our latest conquests include a hair dryer, bandannas, body lotion, perfume, and a facial razor. If you buy something through our links, we may earn an affiliate commission. Please note that all prices are subject to change.