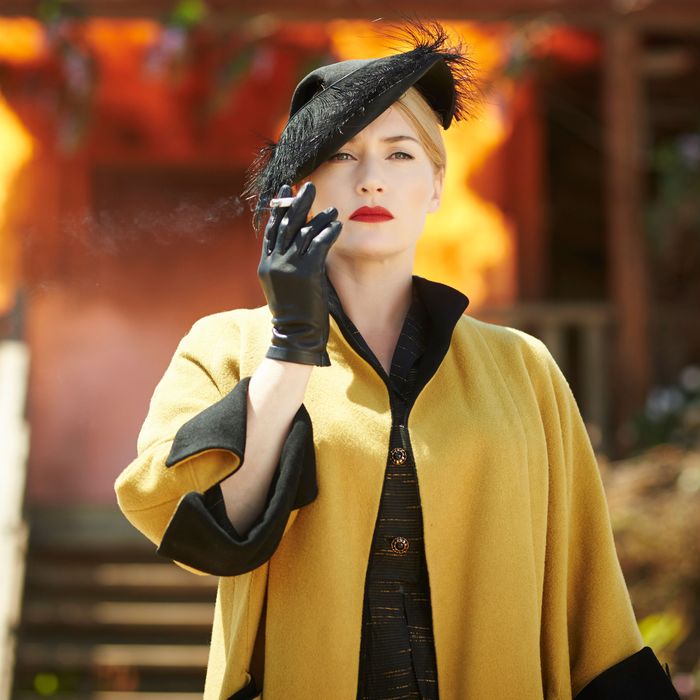 Photo: Ben King/Broad Green Pictures/Amazon Studios
Dressing gorgeously is the best revenge in Jocelyn Moorhouse's adaptation of The Dressmaker, which stars Kate Winslet as a talented designer in early '50s Australia who has a few skeletons in her closet hanging next to her gowns. As Tilly Dunnage, Winslet whirls into her dusty hometown with luggage full of chic designs and revenge in her heart. The small, fictional town of Dungatar and its dowdy inhabitants aren't ready for Tilly's bombshell dresses and take-no-prisoners attitude, but once they get a look at her work, they are putty in her delicate hands.
Award-winning costume designer Margot Wilson was solely responsible for Winslet's dresses, which take their cues from the chicest designs of the early '50s. Tilly has studied with the best of the best in Europe, so naturally her clothes reflect the influences of mentors like Balenciaga and Dior. Marion Boyce, who's responsible for the pitch-perfect look in Miss Fisher's Murder Mysteries, designed the other dresses in the film, which Tilly concocts for the formerly drab ladies of Dungatar.
The Dressmaker's colorful cast, which includes Liam Hemsworth, Hugo Weaving, Judy Davis, and up-and-comer Sarah Snook, is tough to beat, but the costumes by Wilson and Boyce are close. Here they are on some of the most unforgettable outfits in The Dressmaker, with commentary from the film's costume designers.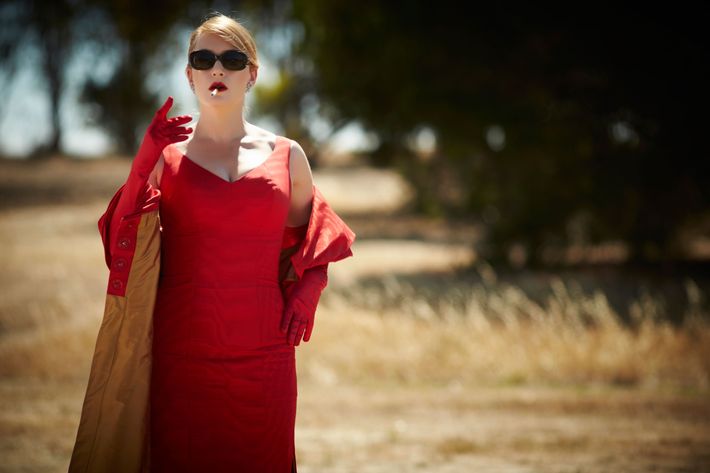 The Dressmaker
Margot Wilson: Tilly wears this outfit to the football match to distract the football players and spectators. I bought this silk moiré taffeta in Milan 25 years ago, and I've been waiting for a film to come along so I could use it ever since.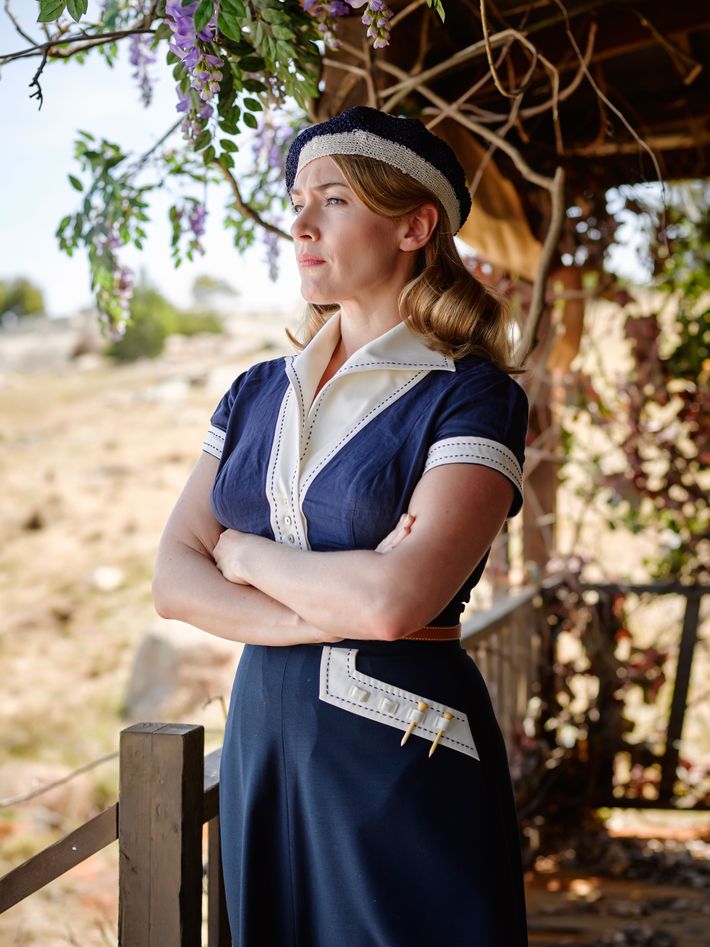 The Dressmaker
MW: Jocelyn Morehouse wanted Tilly to have a touch of the gunslinger in her costume in this scene, as she's shooting golf balls into the town, so I designed a feature on the side of the skirt that represented a bullet holder for her golf tees.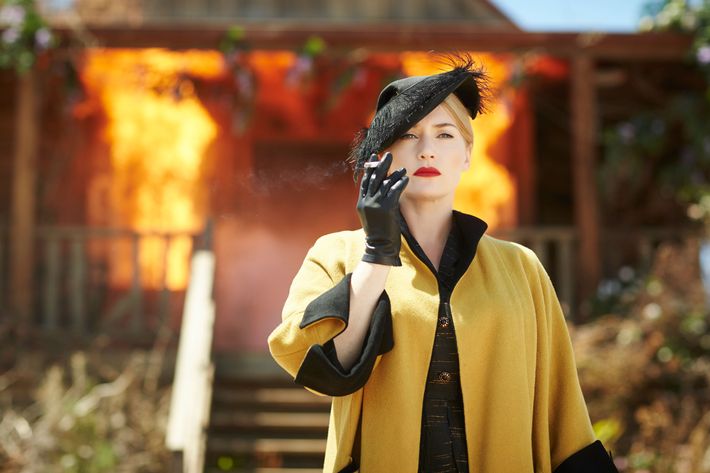 The Dressmaker
MW: Tilly's dramatic exit from Dungatar required an equally strong combination of color, hence the mustard-and-black wool coat. Tilly's hat is a black vintage straw with ostrich feathers falling over the brim line.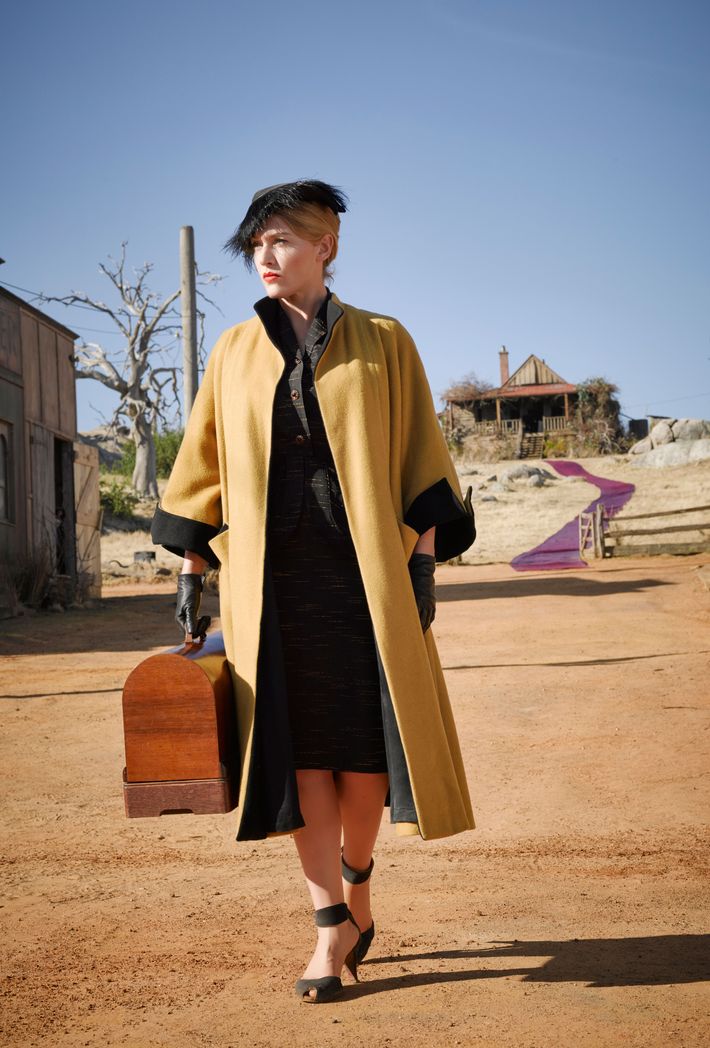 The Dressmaker
MW: Tilly's exit costume needed to be as vivid as her arrival costume. Underneath her coat, she's wearing a slub yarn silk suit and black gloves.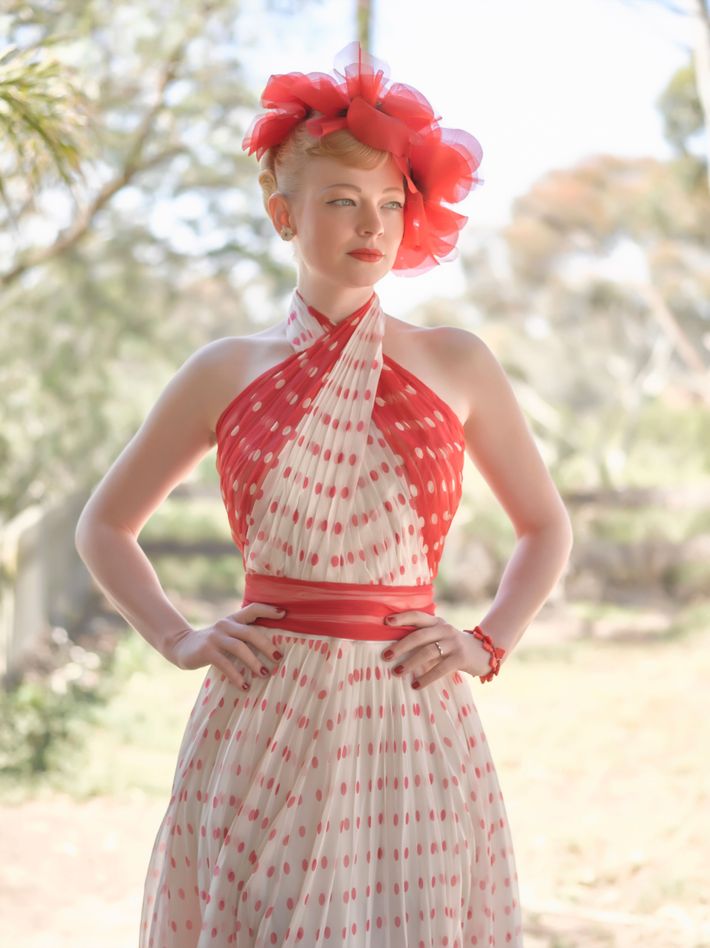 The Dressmaker
Marion Boyce: This ensemble started with the red poppy headpiece. It created the right beat for Gertrude's story arc — confidence with whimsy. Whilst trawling international dealers' websites, I came across this spotted 1950s Sonia Rykiel halter-neck frock in silk chiffon, and it was a match made in heaven.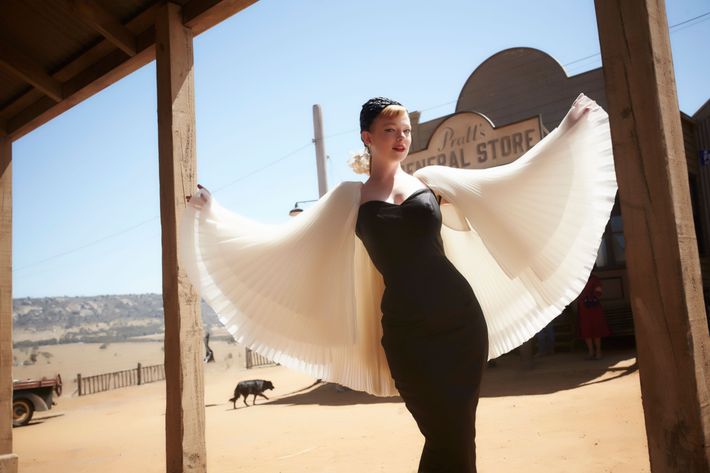 The Dressmaker
MB: The physical location inspired a great deal of the ensembles. In a tough dusty landscape, littered with large boulders and petrified trees, beautiful birds with large wingspans would glide through the air. The cape is an eggshell silk organza, which required 30 meters of fabric. Underneath, she's is wearing a black duchess satin wiggle dress.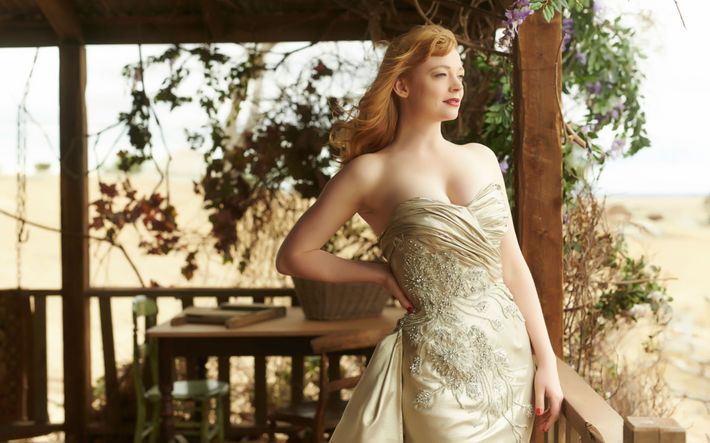 The Dressmaker
MB: This section of the film I called "How to seal the deal." The dress features lamé with crystal and diamante detailing with intricate drapery — very va-va-voom. It's a great contrast to the bad wedding dress that her character is wearing beforehand, before Tilly steps in to help.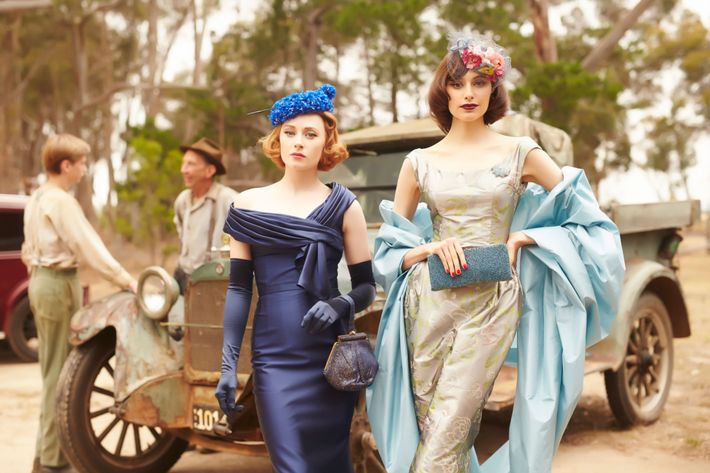 The Dressmaker
MB: Hayley Magnus is wearing silvery-gray silk taffeta with a dusty-pink-and-aquamarine bird design, an aquamarine paper taffeta doughnut shawl, and a Wedgewood blue cocktail hat decorated with pink and crimson flowers. Amanda Woodhams is wearing a midnight-blue silk fishtail cocktail dress, and her cocktail hat is decorated with blue cornflowers and a jaunty quill.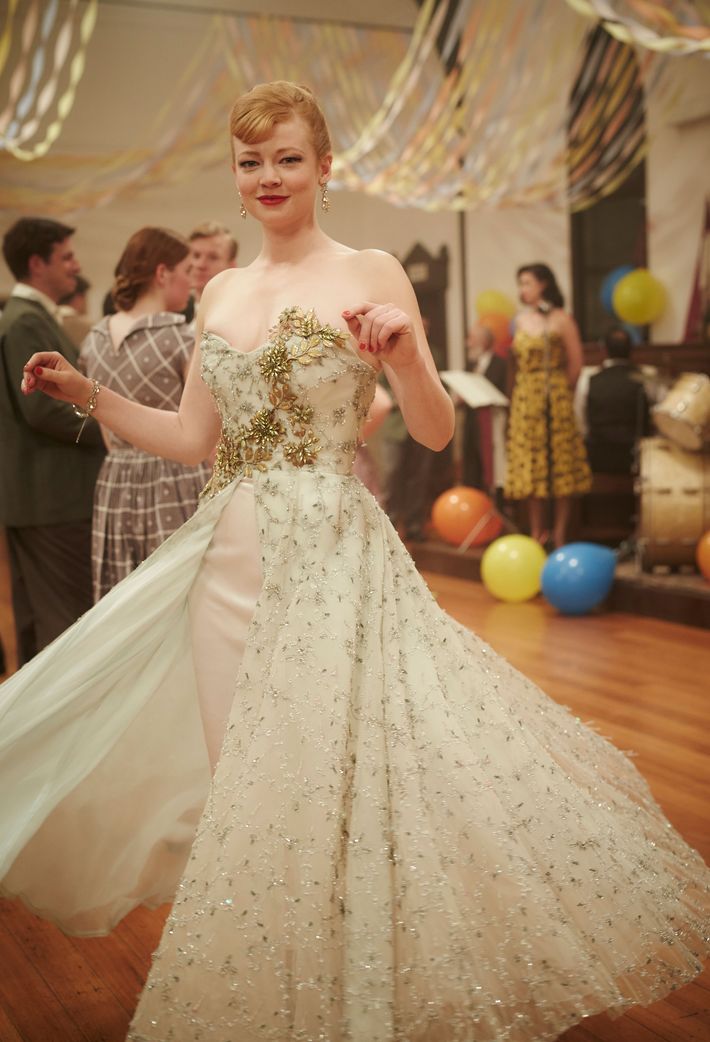 The Dressmaker
MB: This is Gertrude's Cinderella moment. The dress is comprised of "a whiff of mint" fine-silk net, embellished with Swarovski crystals and sequins, and three layers off silk chiffon underskirts mounted onto an eggshell duchess satin wiggle dress. The bodice is embellished with vintage jewelry pieces.