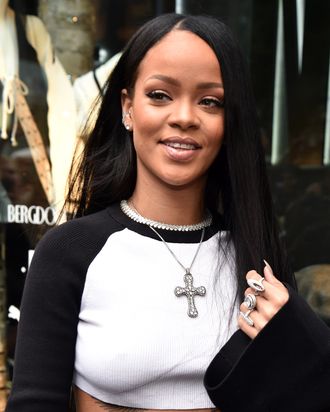 Hundreds of fans waited to shop with Rihanna for her Fenty Puma collection.
Photo: Bryan Bedder/Getty Images for Bergdorf Goodma
There are many inner sancta through which you must pass to meet Rihanna. In the course of my time at the Herald Square branch of Foot Locker, where she is hosting a pop-up shop for lucky fans to pick up her Fenty Puma collection, I pass through an "experimental" space — Foot Locker as Mies van der Rohe commission, complete with bare bulbs— then around the corner to the store itself, through stockrooms stacked high with sneakers and jerseys, and finally into a room that contains a cash wrap and a throne (presumably, for the deity to rest on between interviews.) Official-looking people with credentials around their necks are waiting, watching their Instagram to chart Rihanna's progression from Bergdorf Goodman down to the land of the PATH train. The overall theme of the event seems to be "extremely small amounts of food, offered very quickly." I watch as food sails past me and take notes: "They are bringing chicken on a stick. The chicken is not for me."
When she finally arrives — black cape, high shin-guard-like white boots, many bodyguards — the room erupts into action. Our interaction is oddly public, because there are fans just short of flattening themselves against the glass between us. People are crying. Rihanna, who probably deals with these kinds of reactions on a daily basis, is picking out pieces for her best friend, Melissa Forde, a modelesque figure who's wearing a white cropped jersey and seriously destroyed jeans that somehow manage to make visible butt cheek seem soigné. Rihanna shouts out to her friends mingling in the room, asking what they're going to buy. I can immediately tell that she's the kind of person who needs to make sure everyone is having a good time.
Just before we're about to speak, Rihanna is distracted by a baby, which is understandable. She cradles her for a bit before returning her to Mom and stepping up to shake my hand, apologizing for her tardiness. At Bergdorf's, "I came back out to shop and mingle with everybody, because I couldn't believe people were that excited," she says. "And I kind of got lost in it and started shopping myself."
I tell her that her runway show this February put me in mind of "the health goth apocalypse." She steps back, throws back her head and laughs. "The … health goth?! I love that." It does, she says, have a flavor of "The Addams Family, working out." And everything's, naturally, oversized: "It's funny, when the samples first started coming in, everything was so fitted that you kind of have to go extreme. You're like, 'Okay, make the extra-large my small.'"
There's been some discussion about whether athleisure is here to stay, and whether it might even replace unisex silver jumpsuits as the uniform of the future. Rihanna diplomatically says that she thinks comfort will always be in fashion. "They always say fashion is supposed to be uncomfortable, or whatever they say about that, and it's true, most of my shoes are," she says, laughing. "But if I can be stylish in something that actually feels good and I don't have to suck in my stomach when I'm wearing it, it's a big deal." (No stomach is in evidence, by the way.)
In my limited time with Rihanna, I need to settle two issues. One is the thinking behind the giant Saint Laurent fur cape she wore the other day that turned her into an ambulatory, pigeon-feeding heart. She tells me that she had bought it a couple days prior. "I had just been staring at it, staring at it thinking, 'The minute it drops to 69, even 70, I'm putting this on.' That night, it dropped to like 67, and we were like going out. I went out on my patio and felt the wind, and I was like, Yep! Heart for the night, for sure." Imagine if you will, for just a moment, being Rihanna, stepping out onto what is assuredly more like a "private roof deck" than a patio, and saying, "Yup, I think tonight's the night for the $15,000 Saint Laurent fur heart."
I am also dying to ask her about Drake — I am only human — but she's only taking fashion questions tonight, so I sneakily ask her how she feels about couples coordinating. "Coordinating is one thing. Dressing alike" — she peers down invisible glasses at me — "is a whole other thing. I think that's a lot of planning and premeditation, a lot of work, and it says a lot about the couple. Coordination sometimes happens by accident. I have never once set out to coordinate with any guy I've dated, outfit-wise. It would have to be, like, Halloween." No word on how she explains this, which definitely did not take place on Halloween.
We take a selfie, and an Instagram account whose bio is "Page Stay Lit Like Rihs Blunt" almost instantaneously begins following me. We say our good-byes and she heads over to greet two fans who came all the way from India, fueled by the promise of cropped, fleecy things and designer track pants. They tell her they've never met one another before. "That is too awesome," she says.
I go back through the stockrooms, down several flights of stairs, and into Mies van der Rohe x Foot Locker again, where the fashion fleet of the Navy is waiting to catch a glimpse of her. There's Ashley, a teenager in a simple black tank and hoops, who brought her friend, Danae — a dead ringer for Amandla Stenberg in a red floral buttondown — and made her wait six hours with her. "Everything she wears, she brings it to life," Ashley tells me. Kyle, a tall guy in a camo shirt, fills up a shopping bag, telling me, "I love athleisure kind of wear. I like cozy clothing, but at the same time it has a swagger."
Two guys with matching bleach-blond hair are waiting below the staircase. They waited in line outside for ten hours, says one, who gives me his full name: Ian Hoffner. "I'm going to order the sweatshirts online. I figured I'd scam my mom."
What appeals to you about Rihanna? I ask him, and he returns my gaze with the patience reserved for the mildly dense. "She could wear, like, cloth," he says, searching for the words. "Burlap?" I offer. "Yeah, and she doesn't care. She's, like, unapologetic."