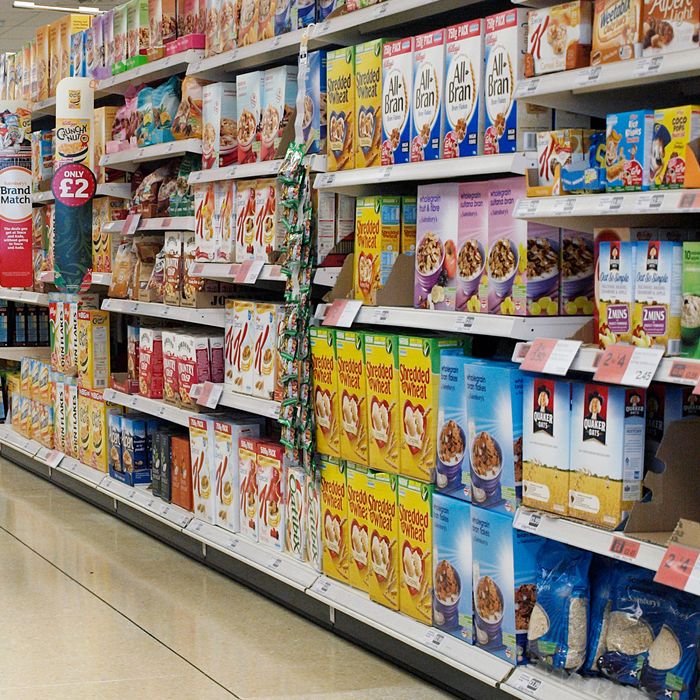 Photo: Education Images/UIG via Getty Images
Food labels can be tricky things. Some manufacturers will slap "gluten-free" and "cholesterol-free" emblems on potato chips even though spuds are naturally without either substance. Others will boast that their cereal or snack is "healthy" or "all-natural," despite the fact that these terms are outdated and practically meaningless, respectively. The U.S. Food and Drug Administration knows that these problems exist and is finally taking action, on some of them at least. Today the FDA has started the process of overhauling the definition of the term "healthy" by seeking public comment. It will also consult experts.
When the term was formally defined in 1994, nutrition experts were most concerned with fat content; added sugar was not a concern. (The sugar industry may have had something to do with that.) For manufacturers to use the word "healthy," their product must be low in fat, saturated fat, cholesterol, and sodium, and have certain amounts of vitamins and minerals. This means a sugary cereal or low-fat pudding could be branded healthy, but a bag of raw almonds could not.

The FDA said in a statement that public-health recommendations on nutrients have evolved, and the term may not reflect these changes. The latest dietary guidelines now focus more on food groups, the type of fatconsumed versus the amount of it, and whether sugar is added or naturally occurring.

This move was somewhat expected, but it's big nonetheless. Back in May, the agency said it would look into updating the 22-year-old term following atussle with Kind Snacks over the fat content of some of its bars (much of the fat is the good, unsaturated kind from plant sources like nuts).
But don't get too excited: The process will likely take a while. The FDA's final ruling on gluten-free labeling took six years. Thankfully, it's also currently in the middle of overhauling the term "natural."