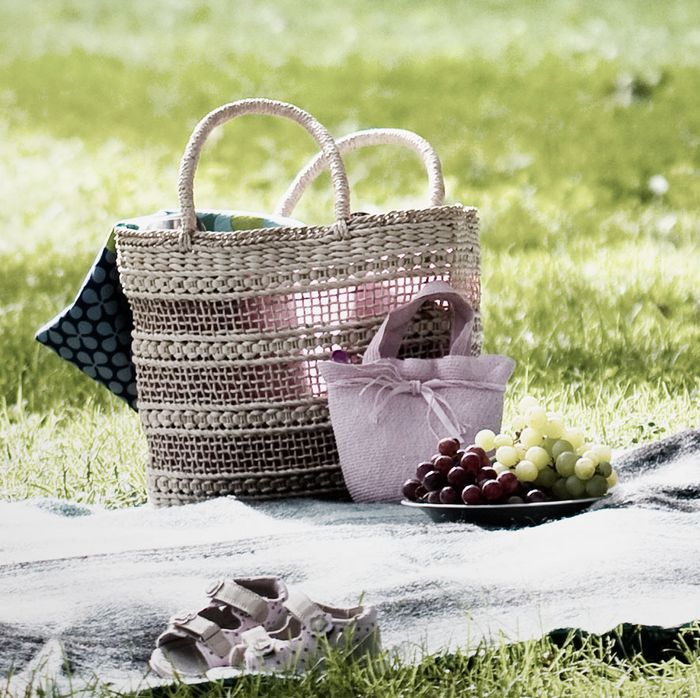 New York's Sex Diaries series asks anonymous city dwellers to record a week in their sex lives — with comic, tragic, often sexy, and always revealing results. This week, a 43-year-old stay-at-home mom who, finally, got the life she dreamed of. Straight, married, Prospect Heights.
DAY ONE
7:15 a.m. We've trained our 1-year-old son to wake up this late by ignoring him in the wee hours until he learned to sleep later. It sounds mean, but we're great parents, so don't even go there. My husband rolls over to me — he is hard as a rock. We've been together four years, and he's now 40, so I don't take this for granted. We are both always ready to go.
7:20 a.m. I quickly brush my teeth and crawl back into bed. I don't mind his morning breath; I never have. I adore him. It's crazy. I can't believe I still don't hate my husband. Doesn't everyone hate their husbands? He enters me from behind, one hand on my clit, the other squeezing my nipple. I'm really wet, he's really hard, we come together after about five minutes. I go get the baby …
7:40 a.m. We play with the baby over breakfast and coffee. I look like shit. It all goes out the window when you have kids. I do feel like beautiful shit, at least.
Noon I'm a stay-at-home mom, so by now I've been to two playgrounds and one music class. I'm looking forward to the baby's nap so that I can clean the house and tie up some loose ends. I ran the PR for a film company until I had the baby, so I worked until I was about 41: The job paid well, and was at times very satisfying, but I'd much rather spend my days mothering than PR-ing. I'm not interested in a conversation about who has it harder, working moms or stay-at-home moms, but I will tell you — staying at home means long, hard days every day too.

7:00 p.m. My husband comes home in time to put the baby down. I always kiss him on the lips when he gets home. He plays with our son for a half-hour while I open a bottle of wine. I really like our routine.
7:30 p.m. We put the baby down together and go to the kitchen to finish up dinner and drink our wine. I'm making a fried tilapia with a fresh salad; he helps.

10:00 p.m. I'm dead by 10 p.m. He "tucks me in" so he can watch more TV or read, or whatever he does in the other room. But first … he puts his hands on my tits, under my T-shirt. Then down my pants. I tell him to finger me until I come. I LOVE getting fingered, always have. But this happens every time: I get so wet and horny that I just want him inside me. He fucks me missionary, and we both come, not together, after ten minutes or so. Then I kick him out so I can sleep.
DAY TWO
7:30 a.m. Same sex-while-baby-stirs kind of thing.

10:00 a.m. I'm leaving our son with my sister-in-law today while I try and have some "me" time. This means Citi Bike–ing into the city, a ten-minute massage in Soho, a long coffee in Nolita. I need shoes but don't feel like shopping. I ride my bike nowhere, really. I just want to float around happily.
So, here's the thing: I'm 43. I waited a long time for this kind of bliss. I didn't think any of it was going to happen for me. Then I met my husband online, we fell in love, and we got pregnant. It happened fast and thankfully so! I don't take any of it for granted, not one dirty diaper from my son, not one homemade dinner with my husband — I cherish it all.
7:30 p.m. My husband comes home just in time to say good night to the baby. He wants to keep him up a little later so they can play. So sweet. My friends' husbands seem to dread these sort of nighttime/bedtime/bathtime things. My husband runs home for it. But I'm pretty strict about our son's routine, so I encourage putting him to bed on time.
10:00 p.m. We rarely do oral. For me, it's because I get so turned on from kissing him that I always just want to have sex. I literally can't wait to feel him inside me most of the day; that's not a line. So he's stopped trying. It's been about four years since getting fully "eaten out." For him, I don't know. Maybe I give horrible blow jobs? I try to blow him, and he stays really hard, but he always moves me back up to kiss him deeply and then we fuck. There are no rules for what works, though: My friend has zero sex with her husband, and they are truly happy. Seriously, they just don't have sex. And he's not gay, nor cheating on her. It just works. We are all different.
DAY THREE
1:00 a.m. My son is screaming because he's teething. I go to him and end up falling asleep on the floor of his room. My husband comes in to check on us. I am so out of it and tell him to go back to bed.
6:30 a.m. I wake up on my son's floor, and I'm really tired and crabby.
7:30 a.m. My husband takes over all morning duties while I go back to bed. He wakes me around nine because he has to get to work. Luckily, my son is napping in his crib by now. I kiss my husband good-bye. I want to go back to bed, so I take out my vibrator. I close my eyes and think about a dominatrix tying me up, putting a butt plug in my ass and a vibrating strap-on in my vagina. Meanwhile, she's rubbing my clit. She won't let me come until she says so. Finally she allows it — I release everything and howl so loudly it wakes my son. No joke.
DAY FOUR
1:00 p.m. I take my son to a mom-group thing and feel so bored and tired I might die. I love him so much, but what I would give to ride my bike around New York for the entire day without any responsibilities. One mom in the class is a pretty well-known actress married to an actor. I wonder if she's happy. She looks so skinny and tense.
6:30 p.m. My husband comes home early tonight because it's almost a long weekend and work is slow for him (he's an art director in the movie world). He sends me out of the house to have a drink with a book by myself while he puts the baby to sleep and makes us dinner. Thank you, Jesus. There is no greater gift. Any stay-at-home mom will get this. I love him so fucking much.
9:00 p.m. We're watching TV, and I just want to ride him — so I do, really hard and aggressively. I don't choke him, but I keep my hands right there. I'm grunting and screaming. I think he's trying not to laugh, but that's okay. I come; he doesn't. We're both fine with that. I take a quick shower, and when I come back to bed and try to speak, I have the raspiest voice. I screamed so much!
DAY FIVE
11:00 a.m. We're loading up to take my son to Prospect Park for the day. It's a haul and a schlep, but I don't care — this is the dream I dreamed for so long. Great day for a picnic. We pack lots of nice food and a couple cold beers. There are dogs everywhere, which my son is delighted by.
2:00 p.m. I get my period in the park. Ughhhh!! This leads to a conversation about trying for another baby. I'm not sure how I feel about it. Most likely, I have no choice but to NOT have another baby, since I'm 43. But I was still pretty fertile just two years ago, as it turned out.
9:00 p.m. When we crawl in bed, I tell my husband I'm going to give him the best blow job of his life. I tell him I need some help though. Basically he jerks off right into my mouth/tongue. I try to put a finger in his ass, but he's not really into that. I do lick his ass a little. He says he wants to just fuck me in the shower, but my period is heavy, so I insist on a full-blown blowie. He comes, hard, after about seven minutes of helping me out, so I guess it wasn't so bad.
DAY SIX
7:30 a.m. The baby is screaming, and I am gushing with blood. My husband takes the wheel as I clean myself up. I stained the sheets, fuckin'-A.
8:00 a.m. I tell the two of them to go do something so I can clean up the apartment and get things in order before we take off for a night in the Berkshires. I hate traveling with my period. I also hate traveling without the prospect of fucking my husband. Travel and sex work so beautifully together. Bummer!!!!
10:30 a.m. We are on the road. We have coffee. Hoorah.
6:00 p.m. We're staying with another family, and the couple fights all the time. My husband is not into their "shtick," but I try to see the comedy in it. It is a little draining, though.
9:30 p.m. Early bedtime for everyone in the house. I take my husband's hand and rub it over my underwear. I have loved this feeling since learning to masturbate as a teenager. He rubs over my underwear, and I won't let him under — I come so quickly. Ahhhh!
DAY SEVEN
2:00 p.m. Fun day of baby playtime and a great lunch cooked by the other couple. Very relaxing, despite all the baby-chasing. As we pack up our room, I take my husband's face and kiss it hard. We are Frenching like kids. I never want this time in my life to end.
8:00 p.m. Long drive with a screaming and puking baby, a ton of laundry, every room turned upside down, and no wine in the house. I make myself a cup of tea and try to get everything done. My husband helps with everything. I can't complain.