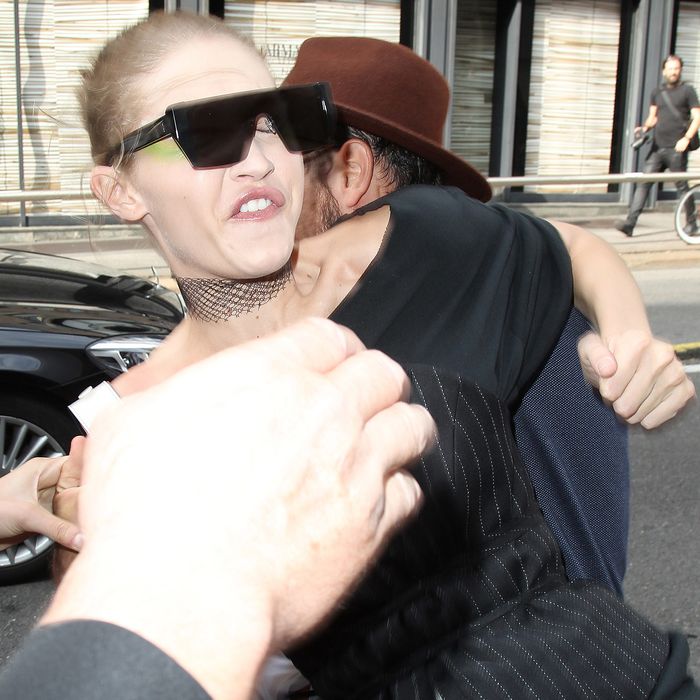 Don't mess with Gigi.
Photo: RobinoPhotografare/XPOSUREPHOTOS.COM
Gigi Hadid had herself quite a moment on Thursday when a random creep decided to literally grab her from behind and pick her up off the floor after the Max Mara show in Milan. (For the record, she fought back and cussed the man out after being let down.) Now we know the creeper's name: Vitalii Sediuk.

He was initially suspected of being responsible for the stunt, since he has a reputation as an "internet prankster" who's fond of tracking down elite fashion insiders. In a statement to The Hollywood Reporter, where Sediuk confirmed his involvement, he also laid out his reasoning for the bizarre stunt. It was, he said, a form of "protest," against what he claims is the tabloid nature of the fashion industry.

In the statement to The Hollywood Reporter, Sediuk said he considers Hadid and Kendall Jenner "beautiful" but that they "have nothing to do with high fashion." He added, "By doing this, I encourage the fashion industry to put true talents on the runway and Vogue covers instead of well-connected cute girls from Instagram."
Hmm …

"You can call it a manifest or a protest," he added. "This is also a wake-up call for Anna Wintour, who turned Vogue into a tabloid by putting Kardashians and other similar celebrities on a cover of a well-respected magazine."
Okay, then. No word on whether Wintour or anyone else is listening to Sediuk's recommendations, but it's probably correct to assume Hadid's definitely not sorry for giving him the elbow jab when she did.