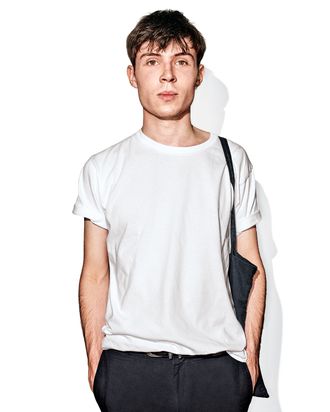 "I just discovered a few weeks ago this typical American brand which is called Hanes."
Photo: Bobby Doherty/New York Magazine
Vivien Canadas, Intern at Marc Jacobs
How's the internship going?
Actually I'm not really allowed to tell you anything about it. I'm sorry, I know, it sounds like I work for the CIA.
Is that a French accent?
Yeah, I'm from Paris — well, originally a small mountain town three hours east in a region called Lorraine, but I go to school in Paris at Sciences Po. I've been in New York since June, living with roommates in South Williamsburg, and am going back in October, after Fashion Week.
Is your style usually this minimalist?
I always wear a white or black T-shirt, basic stuff. I rarely go for prints.
Who makes the best white T-shirt?
The one I'm wearing is from Uniqlo, and that's where I buy most of my shirts, but I just discovered a few weeks ago this typical American brand which is called Hanes. Have you heard of it? It's spelled H-A-N—
Yeah, I've heard of it!
It's really cheap, and someone told me I could buy it at Duane Reade, and I think their T-shirts are very good. I got a few of them. Maybe Hanes is going to be my new favorite.
Lightning Round
Age: 22
Roommates: "I live with one of my friends from France and a girl from Iceland and one from Spain."
Recent splurge: "I made a stupid purchase at the Opening Ceremony sample sale this weekend — a $30 T-shirt I'm never going to wear."
Currently watching: Mr. Robot.
Favorite thing about summer in New York: "Fort Tilden."
*This article appears in the September 5, 2016 issue of New York Magazine.