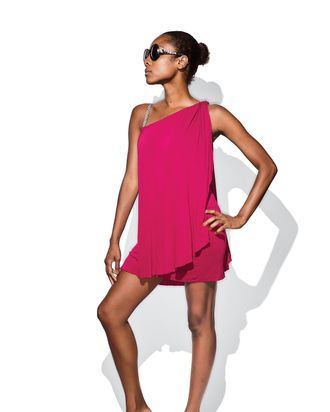 "My mother was a beauty queen, and she encouraged me [to model]."
Photo: Bobby Doherty/New York Magazine
Kayran Abasali, Model
How did you get into modeling?
Well, back in Trinidad, where I'm from, my mother was a beauty queen, and she encouraged me. I started doing commercials — I was the face of Angostura bitters. I always had the right look, the right skin color — I was brown enough, and dark enough. In New York, it's competitive — especially as a mixed-race person; there are only a few spots for us. I only just started modeling again when I turned 30.
So what were you doing before that?
In my 20s, after getting an associate degree at F.I.T., I decided to go to Columbia as a general-studies student. I majored in sustainable development.
Any big fall plans?
I'm running away to Italy for five days with a friend of mine who's from there. The Italian boys usually like me.
Lightning Round
Age: 32.
Siblings: "I'm the eldest of three."
Currently reading: "I'm rereading Roots."
Currently watching: Friends.
Workout regime: "I don't exercise — I have good genes and walk everywhere."
Favorite restaurant: "Pearl's for Caribbean food. Get the bake and shark."
Favorite part of the city: The Lower East Side.
*This article appears in the September 19, 2016, issue of New York Magazine.