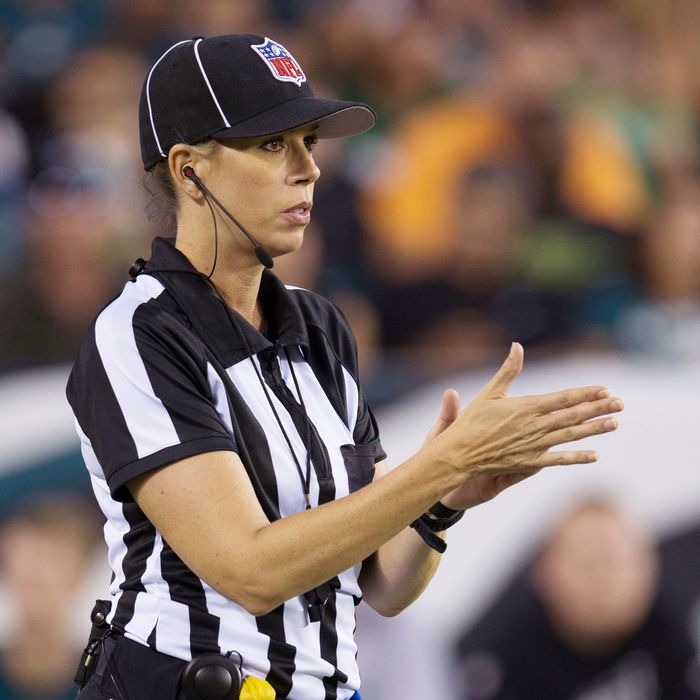 The NFL wants more women like line judge referee Sarah Thomas.
Photo: Mitchell Leff/Getty Images
The National Football League's coaching and officiating positions have long been dominated by men, but that is set to change now that the NFL has appointed former women's football player Sam Rapoport as its director of football development.
Rapoport, who took on the role earlier in the month, is focused on identifying women who could fill on-field positions, Fox Business reports. She is also overseeing a program to train women to become trainers, coaches, scouts, and officials, and find positions for them with the league's 32 teams. Rapoport told Fox Business:
"Right now, the overall goal is to create opportunities for females on the football side. It really is [about] putting women in a similar position that men have had previously to succeed and to advance. We know those women are out there, we know they're qualified and we know they know football just as well as men do. The challenge previously has always been the connection to the NFL."
The push for gender equality within the NFL's ranks reportedly came in response to criticism over the 2014 domestic-violence scandals involving Ray Rice and Adrian Peterson. The NFL's upper management have since made it a point to hire women in leadership positions. We'll see how that goes!