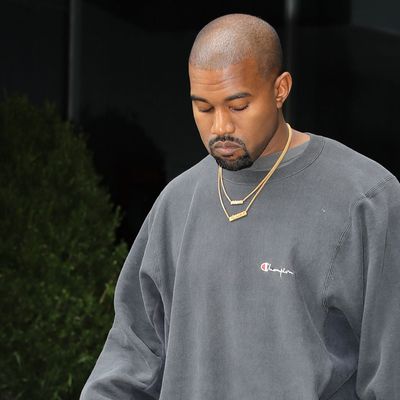 Photo: Ignat/Bauer-Griffin/Getty
My childhood home was rife with oil paintings and stone sculptures that marveled at the black body. Magazines like Essence, Jet, and Ebony had a permanent place on the living room coffee table. Among many other things, my parents knew what I would later discover: that I was born into an orbit that stamped whiteness as the default standard of beauty. And so they did their best to push back by filling our home with images of nappy hair, wide noses, big lips, round butts, and brown skin.
By the time I reached high school, though, I was aware of the limited latitude of black beauty that was recognized against the white backdrop of America. I knew Halle Berry was gorgeous, but I'd heard Lauryn Hill was just "talented." My white friends marveled at the beauty of Tyra Banks, but they'd never heard of Alek Wek. Black beauty was praised, yes, but only when juxtaposed with so-called white features.
I am reminded of my upbringing and the push and pull of what is considered beautiful constantly, but most recently when Kanye West posted the casting call for his upcoming fashion-week show on Twitter. When he asked for "multiracial women only" for his upcoming New York Fashion Week show, what did he mean? We likely won't know until tomorrow, when his show takes flight, but I can tell you what many black women see when they read "multiracial." We don't see a specific "multiracial" person, because what would that mean? Multiracial people come in multitudes, and aren't pinned to one particular look. Instead, we sniff something insidious. We see black features on white bodies praised — our full lips and butts, once mocked, now an aesthetic worth achieving. We see white features on black bodies praised — long hair and light eyes that serve to justify darker skin. We see these things and wonder where the singular black body belongs.
My high school was the product of a decades-long push for racial integration. It's a public school that sits in a Cleveland suburb that is as diverse as a small town in Ohio can be. Its population is nearly equally split between blacks and whites, with a smattering of Asian and Latino mixed in. (For what it's worth, there were few kids I can remember who would have identified as "multiracial.") Growing up, the subject of race was not only fruitfully discussed, it was encouraged. And yet even there, notions of what was considered beautiful played along racially coded lines. Smoother, straighter hair garnered more compliments in the high-school hallways. Bright lipsticks on black lips were met with furrowed brows. Rarely were these things overt or even malicious, it was just how we learned to internalize the standards of beauty that were ubiquitous then (and to a certain extent, now).
Maybe Kanye is drumming up an homage to his family, which, of course, is multiracial. That's entirely within his rights. But we're still restrained by Kanye's interpretation of "multiracial," and when it comes to race —especially race and gender — his take isn't always the most thoughtful. This is a guy who wore and then later sold merchandise etched with the Confederate flag to promote a song, told radio hosts that he stayed "ghetto" because his wife has a "big ass," and who most recently only seems to discuss race when it affects his album sales.
The creative orbit in which he moves makes it even harder to trust Kanye's instincts here. The Anglo-Italian architect behind his previous Yeezy shows, Vanessa Beecroft, has a particularly eyebrow-raising understanding of race and aesthetics. She's described fashioning Kanye's latest Yeezy show after a Rwandan refugee camp ("Perhaps this is Woodstock, because it looked really fashionable and glamorous"), attempted to will herself into becoming a black man, and commented that everyone in war-torn South Sudan looked like Alek Wek. Besides, runway fashion in general has an infamously poor history with models of color — why throw up another explicit barrier at all?
I'm sure Kanye has a very Kanye answer to all of this — maybe something along the lines of how we are all one race, or how he wants to present the collection through his children's eyes. Through the magic of Kanye, his justification might make sense for a moment, and then crumble under closer inspection. But let's remember that it's okay to be skeptical of his vision — Kanye does not, in fact, always have the right answer. And though all this talk is pegged to a ten-minute parade of a clothing show, this kind of discussion matters. Who is multiracial? In a greater sense, we all are —which turns the word into pure drivel.