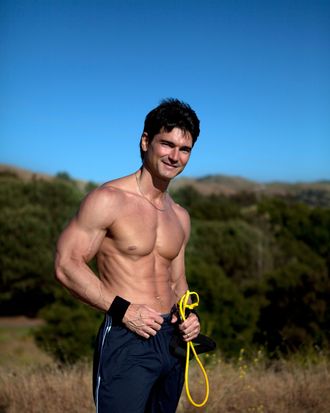 Romance-novel covers haven't changed much over the years — the combination of a beefy, shirtless man (often seducing a woman with a heaving bosom), some sort of prop, and a wind machine hidden slightly out of the frame has proven to be a reliable formula. But while Fabio was the most recognizable face of romance-novel covers in the 1980s and 1990s, he's since been edged out by someone who hasn't also made a fortune hawking butter substitute.
As of August, 42-year-old California model and Santa Clara Housing Authority worker Jason Baca now says he holds the record, with 485 total covers. Baca talked to the Cut about how he got into the business, his diet, and whether there's any drama in the world of male romance-novel models.
On how he got into the business …
"I found out about romance-cover modeling in 2006. I had walked through a Barnes & Noble and ran into a book cover, and I thought, Man, I could totally do this. At the time I wasn't in shape. I had a decent body, but the guys on those covers were ridiculous. At that moment I was totally into wanting to be a cover guy."
On getting his first shoot …
"Out of 80 to 100 authors I contacted, this one author said, 'Hey, you know what, you're actually the exact look of this character I have coming up.' It was The Legend of Michael by Lisa Renee Jones. The whole month leading up to it to the shoot day I just worked out like a madman. I was in the gym basically breakfast, lunch, and dinner. Eating chicken breasts. Doing everything I could just to get my body to be a piece of artwork, an anatomy chart. The day of the shoot I was a nervous wreck. I wanted to do so good."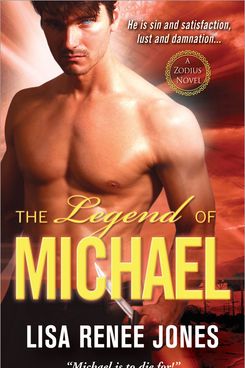 On his diet and exercise routine …
"Even if romance books weren't in my life, I would still be working out six days a week.
[My diet is] not very exciting. I'll tell you that much. I get to have chicken breasts, Greek yogurt, asparagus. I'm definitely getting my potassium in. I try to eat as much potassium foods [as possible]. I'm drinking a lot of water. I'm always eating fish that's been grilled. I tried to be creative so I can have longevity in my diet because if you just go in and out, day in, day out eating chicken breast, you're going to go crazy."
On the other male models …
"Oh, yeah. I know who my competitors are. They know who I am. There's not many of us. Maybe a couple dozen, I'd say. There's a lot that want to get into the business … I'm lucky enough to be one of them. I've had so many people come up to me and be like, 'How do I get into something like this?' I try to tell them a little bit … I want to let people try and earn that because it's a good feeling once you figure it out on your own, which is what I did. I had no contact. I had nobody in the business that was helping me out. It's very gratifying to say, 'Well, I'm established now in this business and everybody knows who I am.'"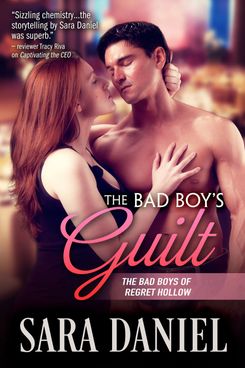 On whether there's any beef with Fabio …
"I'm sure we're very aware of each other by now. I'm sure he knows about me. I definitely know about him."
On how the business has changed over the years …
"[Fabio] definitely had it more challenging in his time because when they did book covers back then, the whole production crew would come in and props guys and wardrobe people and the makeup artists and the photographers — all that stuff, just for one book cover. Today, they'll have me come in and set up three or four different book covers in one shoot. They could have me in the warrior. 'Okay, take that outfit off and put on this cowboy outfit'; I'll throw that on. 'Now take that off, go ahead and put on this military outfit. Hold this gun.' I definitely got to fast-forward, whereas he didn't have that luxury back then."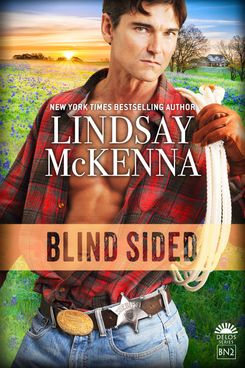 On whether he gets recognized …
"A lot of people will see me and be like 'You know, I've seen that guy, but I can't pinpoint where.' I'll get, 'Oh, you look very familiar.' I just sort of play along with it. I'll be like, 'Oh yeah, I get that all the time.'"
On what comes next …
"I'm definitely not going to go that much longer with this. I've accomplished what I wanted to accomplish. I wanted to maybe get up to 500 [covers], and we'll see. I enjoy dieting, it's great — but I also enjoy eating food."