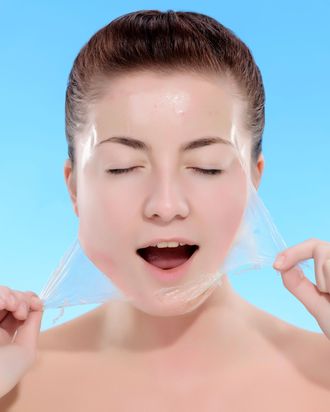 Photo: coloroftime/Getty Images/iStockphoto
Quick: What was your last at-home beauty indulgence? Did you paint your nails, soak in a tub, or polish your skin with a scrub? Sounds pretty weak. Here's a treatment sure to grow some hair on your chest: Dr. Shills's Deep Cleansing Black Purifying Peel-Off Mask.
The depth of the mask's abilities were demonstrated Tuesday by Cachet Raynor on Twitter. In a video posted to the site, Raynor is seen slowly peeling the mask from her face. It looks pretty painful. A few "F-bombs" were dropped, screams were heard, and tears were shed. To sum it all up, Raynor aptly tweeted: "I WILL NEVER DO THIS SHIT AGAIN."
That being said, her skin looks amazing, and even Raynor admits that her face felt soft. Hey, they say pretty hurts, so maybe buck up or go home.