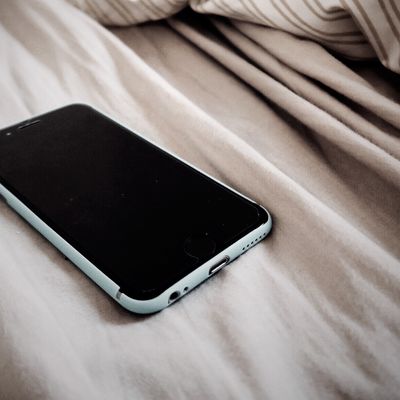 Photo: Getty Images/Getty Images
New York's Sex Diaries series asks anonymous city dwellers to record a week in their sex lives — with comic, tragic, often sexy, and always revealing results. This week, a 34-year-old hospital administrator who Tinders behind her boyfriend's back. Bisexual, in a relationship, Prospect Heights.
DAY ONE
7:30 a.m. I wake up next to my boyfriend and the first thing that comes to mind is the first thing that always comes to mind: Is he the right guy for me? We've been together three years and I have never had the answer to that.
9:00 a.m. I hop on the subway to my job at the hospital. It's an admin job; I'm not a doctor. However, I work closely with one doctor and I have fantasies about him. He's tan and rugged — I think his girlfriend is some sort of TV anchor. It's all so out of my league. I've masturbated to him many times, every time the same image: He is rough with me against a wall in a supply closet. It is so Grey's Anatomy. I would never in a million years masturbate to the image of my boyfriend, a scrawny musician. But I am curious: How many women would masturbate to the men actually in their beds?
Noon I leave work to grab sushi with a colleague. She tells me I'm lucky to be done with online dating. What she doesn't know is that I'm not totally done with it. My boyfriend and I met on Tinder a few years ago and I never deleted the app. I changed my orientation to "bisexual," too — because why not? I've had a few dates with both men and women behind his back, but no sex. I wouldn't do that.
9:00 p.m. I crawl into bed while he watches TV in the other room. I feel depressed by faking being in love. Unless that's what love is: a good deal of comfort and not much more? I am so confused and (sometimes) so depressed by it all.
DAY TWO
7:30 a.m. So, my boyfriend and I rarely have sex. Maybe once every six weeks. But this morning he was kissing my neck and playing with my hair and I just let go. I rode his dick — which is perfectly average — while pretending it was a random Tinder girl wearing an enormous strap-on. I'm less concerned about this image than about the fact that my boyfriend came inside me. He normally pulls out. We are both in our mid-30s and every now and then, while drinking, we say that it wouldn't be the worst thing to get pregnant. So I guess that's what he's doing now: more actively trying to get me pregnant.
8:00 a.m. In the name of healthy communication (haha), I say, "Are you planning to come inside me every time we fuck now?" He blushes. He says, "Well, we should talk about it … for real." He looks at me lovingly. For some reason, I recoil and say I have to head to work.
3:00 p.m. I am meeting a Tinder guy for coffee. It's near the hospital, where no one from my social circle would ever be. His name is Stuart and he's here for a few months from England. When he walks in, I think he's pretty cute: a very bad version of Hugh Grant — which is still good. After a half hour, I go back to work. I don't plan to see Stuart again, but that was fun. I suppose I only do the Tinder thing to see if somehow, someway, a last-minute soul mate will come crashing into my life.
DAY THREE
7:30 a.m. My boyfriend wants to bone again. No thanks.
9:00 a.m. He leaves for work. I masturbate on the couch while NY1 is on — not to any particular man, just to someone eating me out with one finger in my pussy and one in my ass. I come really, really, really hard.
1:00 p.m. I walk around the neighborhood to get some fresh air. I call my parents. They want grandchildren in the worst way. I tell them we've started trying. I have no idea why I would set them up for disappointment like that, considering I'm not sure whether we're even sustainable. But I just want them to be excited, even if it's all for nothing. And, truth be told, I was ovulating when he ejaculated inside me. Yup. Shit.
7:30 p.m. I meet my boyfriend for neighborhood Thai food. We both love politics and current affairs so that's what we talk about. I don't mind these mundane meals and mundane conversations. I'm just always confused about whether that's all life has to offer me or not. I can tell he wants to have the baby talk, but I'm not in the mood and not sure what I'd have to say about it yet that would be productive.
10:30 p.m. My boyfriend goes down on me, then tries to stick it in. I let him even though I really wanted to come from oral. Two sexes in one week. One ovulation week. Obviously there is a part of me that is okay with, if not kind of thrilled about, this. It's just the darker side of me that always makes a lot more noise.
DAY FOUR
Noon Because nothing astonishing happens today (I eat a flat bagel, I work, I walk home, I watch The Night Of …), I thought I'd use this space to say: Maybe I do love my boyfriend. Maybe the issue is with me, not the relationship. In fact, the relationship has no issues. I get the exact level of attention and, quite frankly, sex that I require. I truly like the man he is. I respect his character. If I could redesign my love life, the only thing I would change is this constant doubt lurking within me. I would change it so that I would know, for sure, that this was the love of my life. That I'd found him. That this is how my story ends and I wouldn't have it any other way. But again, maybe that is something I have to come to terms with on my own. And it's not the relationship's fault. Also, I want to address the Tindering behind his back: I have no idea why I do that. Maybe I'm lonely and just like meeting people. Maybe it's not so unhealthy.
10:00 p.m. That being said … tomorrow I have a date with a woman.
DAY FIVE
8:00 a.m. My boyfriend comments that I look great in this dress and that I should wear it more often. I have to say, I do look good in this dress. It is from Bird.
2:00 p.m. I leave work to get a blowout. What a riot — I am working harder to impress a woman than I ever would for a man. Women want to look good for other women. During the blowout, I text my boyfriend to remind him that I have a Work Drinks Thing.
6:30 p.m. Ally gets to the little pizza place in Soho before me. She's at the bar. She's really pretty. I'd never have pegged her for gay. (Her profile states that she is only into women.) I'm nervous walking toward her simply because of her hotness. I wasn't expecting this.
8:30 p.m. Our date is comfortable and funny. Kind of like when you meet someone you went to college with, but didn't really know back then — familiar yet new. I tell her the truth (kind of): that I'm seeing someone, a man, but still exploring my feelings. She gets it. She gets me.
9:00 p.m. I'm drunk from the red wine. Ally suggests another drink, but I say I have to go home. We kiss, with the slightest amount of tongue, as I wait for an Uber.
9:10 p.m. I change her name to "Allison From Work" in my phone, and text to thank her for buying our drinks and pizza. I'm pretty sure I'll never see her again, though. I actually kinda miss my boyfriend.
10:00 p.m. We watch The Night Of finale together, all cuddled up. My only regret is being too drunk to really follow what happens.
DAY SIX
10:00 a.m. I'm hungover and eating like crap. This is literally my second egg and cheese on a salt bagel today. Hopefully I'm only hungover and not pregnant. Don't think it hasn't crossed my mind.
Noon It is Saturday and my boyfriend has a family thing in New Jersey, so I get to veg all day. I decide to binge-watch American Crime.
9:00 p.m. I crawl into bed early. Oh, Ally texted once today and asked what my weekend plans were. I didn't write back. I won't write back.
DAY SEVEN
8:00 a.m. I wake up pretty early for a Sunday and decide to go for a run. This is highly unusual for me. I listen to Adele. She speaks to me: Hello from the other side …
11:00 a.m. My boyfriend and I go for bagels and coffee at our local place. Nothing out of the ordinary, except I notice that when we hold hands on the walk there, I feel as if I never want to let go. I really, truly do feel that way. It's not just a nifty way to wrap things up here. In that brief moment, I never want him to let go of me, and I never want to let go of him. And maybe that is the simple feeling which I need to take a moment for and learn to cherish.
Want to submit a sex diary? Email sexdiaries@nymag.com and tell us a little about yourself.