In the heart of Saint-Germain-des-Prés, not far from where many of the design legends of the 20th century once roosted, Anthony Vaccarello presented his first looks for Saint Laurent. The setting was the colonnade of a building that will eventually be the company's headquarters — hoisted on a crane, blazing against the night sky, was the famous YSL logo. Apparently, Vaccarello has restored the Y, which had been excised by his predecessor, Hedi Slimane, as both a throwback to the brand's original name and an attempt to modernize it. (The truth is, despite Slimane's efforts, most people still say YSL.) Besides, it's fun. Y-S-L. It sort of sashays off the tongue. In that spirit, Vaccarello had the logo molded into stiletto heels.
But there's no denying that without Slimane the company might not be getting such grand new digs. In 2013, a year after his appointment as creative chief, he led revenue growth among YSL owner the Kering Group's top luxury brands, beating Gucci and Bottega Veneta. Most fashion insiders were regularly astonished at the trashiness of Slimane's clothes — the fact that his baby-doll dresses and miniskirts seemed a pricier version of what you could get at Forever 21. But Slimane's strength was never as a couturier. It was, rather, to anticipate that young people didn't want to dress like luxury freaks, that they were a little embarrassed by the generation of Tom Ford and John Galliano, just as Saint Laurent in the mid-1960s had rejected bourgeois couture by proposing the original baby-doll. That ability to understand the mind-set of the consumer — and to feed the brand with images rather than words or personality (Slimane rarely spoke to the media) — is worth a lot more today than design skills, however grim that seems.
It's not clear what Vaccarello understands. He took some classic YSL shapes — the dippy sweetheart neckline, the poufy couture sleeve, the sleek tuxedo, and the one-shoulder dress — and essentially whittled them down, so that a black sweetheart top appeared with boyfriend jeans and le smoking was basically a drizzle of leopard-print silk and miles of bare legs. Maybe the harshest thing that can be said of Vaccarello's debut is that he did what was expected. I, for one, thought he would do his trademark super-short minis — et voilà! And I figured that, like Slimane, he would avoid some terrible rendition of, say, the 1976 Russian collection. He did, but that's a low bar.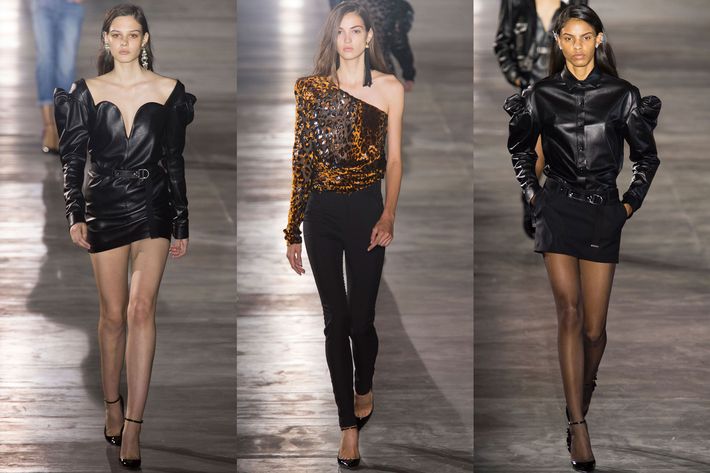 And that's the thing: I can't tell from this first effort what Vaccarello cares about. Slimane, at least, wanted to be provocative. (And, yes, if you're wondering, I'm welcomed back at YSL, after being excluded by Slimane during his tenure.) Putting boyfriend jeans on the runway now seems, as several editors said, pretty lame. Even Vaccarello's brand of sexiness, while certainly salable, has been around the block a few times. Saint Laurent had an arsenal of weapons at his disposal — great taste, wit, a natural sense of mischief, and a deep sense of insecurity to drive him. Sitting there in the cool shadows of the colonnade, while the YSL logo glowed like the Batman symbol over Gotham, I kept thinking, C'mon, man, make me smile. Do something witty. My hope is that Vaccarello will find a fresher entry into Yves's wicked world than a see-through blouse. If not, it will be very hard going.
The opening days of the Paris shows, normally rather quiet, point up a widening divide between the highly packaged style luxury brands and the unostentatious expectations of young people. There's definitely a renewed desire among the former to be more individual, even experimental. Simon Porte Jacquemus is probably the best-known among the young Paris designers. His collection the other night seemed to draw (heavily) on the turn-of-the-century fashion for cotton shirts with high collars and leg-'o'-mutton sleeves, not to mention straw hats with flat crowns. I pictured ladies bicycling through rural France.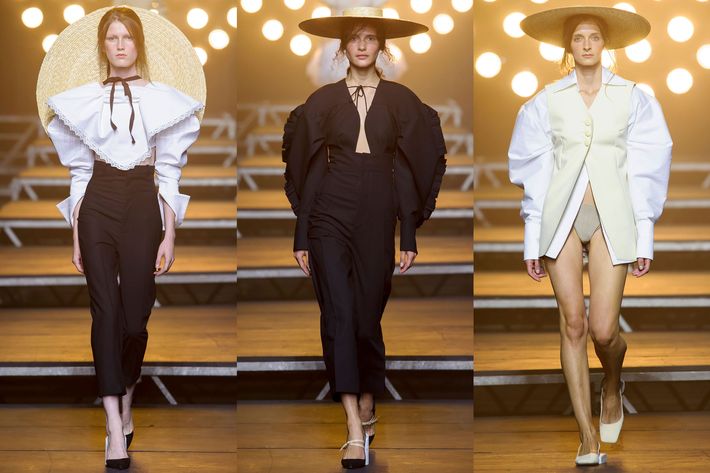 Unfortunately, Jacquemus didn't appear to know what to do with the bottoms — it was a shirt show, a nice one but still — and he might want to school himself a bit on Vivienne Westwood's early work. She, too, loved a jolly sleeve.
I was far more charmed by the clothes of Samuel Drira, who once worked at The Row, and now oversees Nehera, a label created in the 1920s by a Czech named Jan Nehera who saw a need for stylish but practical ready-to-wear. When the business closed at the outbreak of the Second World War (it was revived two years ago), it had some 130 shops in Europe and the U.S. Drira, who previously worked at Hermès, clearly knows about Japanese cutting techniques — the loose, voluminous shapes, the twisting and knotting of fabric, the slicing into tailoring. That is, he knows enough to take only what he needs, and not try to con a Paris audience that has seen everything. Long cotton or linen dresses with a simple twist of fabric on the bodice or over a shoulder were perfect, as were tiered skirts in subtle parchment shades of cotton. Nehera should again be on retailers' lists.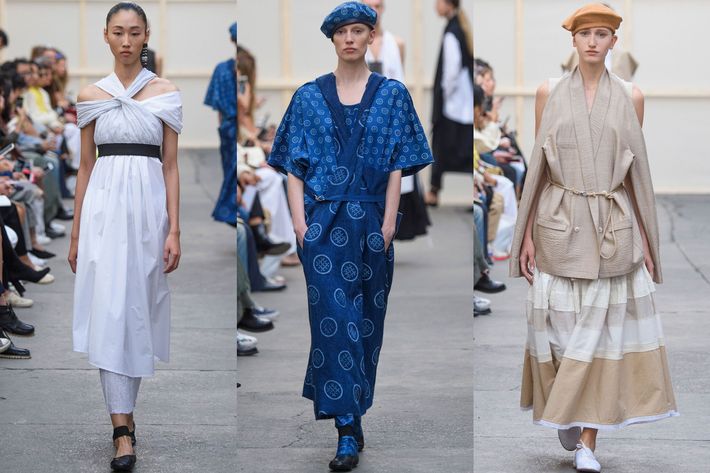 Glenn Martens of the label Y/Project also had a good show. To be sure, a lot of what Martens does is not original. We've seen designers cut into the legs of jeans and then reattach the sections with straps, and we've seen endless manipulations of men's shirts, sweatshirts, and corsetry (think of Junya Watanabe and lately Vetements). But Martens's designs nonetheless feel fresh, rewarding his enthusiastic audience, and I can guess the reason: There's not a trace of nostalgia in his fashion, unlike that of Jacquemus. I also rather suspect he enjoys surprising himself.