At some point, everybody in this city has a dream of "New York" — the glitter, the opening nights, the promise of a more glamorous life. And so, on Tuesday evening, we climbed the stairs to the gaudy heights of the Russian Tea Room. The photographer Steven Klein, carrying his baby son Ace (and a bottle of formula in his hip pocket), was next to me. Lady Gaga and Naomi Campbell would soon be along. We'd come for the thrill of wunderkind Brandon Maxwell.
For the most part, he did not disappoint. Maxwell understands the value of performance and establishing a sense of intimacy with his audience. He packed the room, leaving just enough space for the models to move through in solid shades of black, beige, olive, and the palest pink. The clothes were dramatic, too: sleek trouser suits, strapless cocktail dresses with folded satin bodices, and halter gowns trailing yards of that lovely blush-pink silk.
Nonetheless, expertly made or not, the collection is missing something. There's no mystery, no special understanding of cut or women's bodies that makes the clothes all that different from the work of a host of designers, past and present. In a way, they depend on the drama around them for their appeal — and inevitably people get wise. Maxwell, who is still young and obviously talented, might want to temper the dream and get down to something more personal and demanding.
"I was thinking I wanted to take away the artifice of fashion," said Sophie Theallet, explaining her decision to skip a show and instead do one-on-one presentations in her Garment District office. "I prefer to take the time to go back to what I learned in Paris."
Actually, what Theallet knows is on her fingertips. She can access an idea so quickly, or so it seems — in the proportions of her clothes; in the harmony of the way she combines fabrics like washed linen with, say, a waxed raffia; and in her simple but seductive shapes. Her clothes reflect the slower way of working of her mentor, Azzedine Alaïa, but her style is her own. And you never quite know what to expect from Theallet. This season, a botanical drawing of a stamen became the basis of a print that, when enlarged and turned upside down, looked like a spear or a fleur-de-lis motif. She used it for the full skirt of a cotton dress that she hemmed with a wide band of dark-brown waxed raffia. It reappeared, in relief, on clingy knits, and in a small, more abstract version for a wonderful chiffon mini-dress flared with petticoats. Theallet also used zippers to great effect, setting them into a strip of raffia on a bias-cut, sleeveless, brown-and-ivory-striped linen dress, so that you could peel it open from the shoulder. Or not.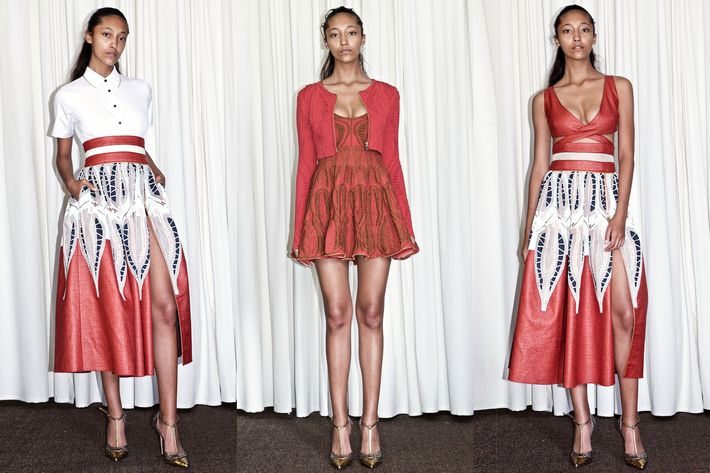 She did something similar with a baggy, long-sleeve tunic that resembled a sweatshirt, except in lustrous black silk. Spilling irregularly over the model's body, and caught by a black band of athletic knitting at the hem, it would be the envy of any hipster-celebrity designer.
"It's beautiful because of the simplicity of the fabric," Theallet shrugged.
Narciso Rodriguez performed a similar magic with his materials, and with his powerful grasp of minimalism he makes the Olsen sisters of The Row look like maximalists. His first model wore slim white trousers, a ribbed white undershirt, and a matching pair of suede flats that looked a lot like sneakers. A moment later, a model appeared in a straight white tunic of featherlight silk, cut like a roomy cardigan. A number of dresses in mercury and aluminum hues combined light and shine in wonderful ways, but my favorite thing was the silver line running down the front of an otherwise plain black coat — like a streak of light glimpsed in a crowded street at night, and then gone.
If Rodriguez needed only two or three items to make a look, the opposite could be said of Stuart Vevers at Coach. Each outfit in his pumped-up show — complete with rusted vintage cars that looked as if they'd been reclaimed from a demolition derby — had seven or eight components: sheer slip dresses, rose-printed leather tap pants, bandanas, denim. And that was in addition to the rivets and bottle caps on the leather jackets and bags. Still, the show was fun — a rockabilly mash-up for the merch-obsessed.