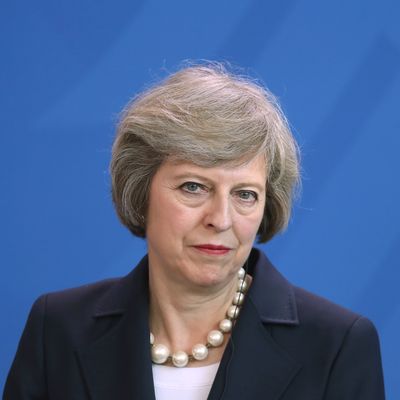 Theresa May.
Photo: Sean Gallup/Getty Images
Since Theresa May became prime minister of Great Britain, her signature leopard-print kitten heels have been the source of much intrigue and joy. Sadly, this week she was called on to ditch them and wear flats instead, to "set an example" for women.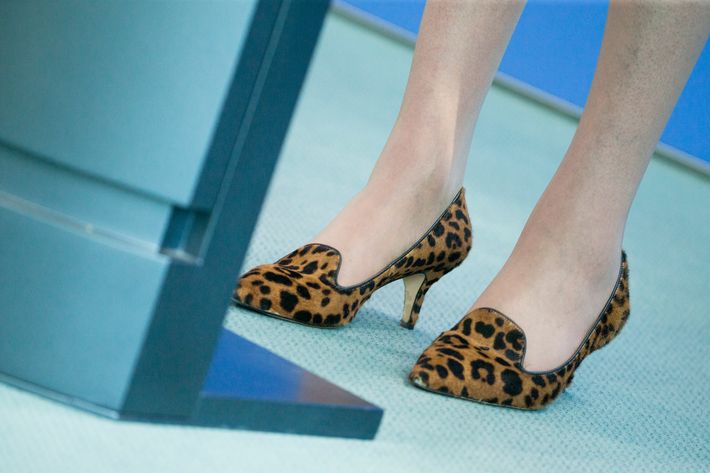 The British shoe controversy began in May, when Nicola Thorp, a receptionist at a corporate finance company, was sent home from work when she refused to wear high heels. Thorp claims she was laughed at when she suggested that the company's dress code, which requires women to wear shoes with a 2- to 4-inch heel, was discriminatory.
The Guardian reports that this week, the country's Trade Union Congress conference voted unanimously to change the law to prohibit employers from forcing women to wear high heels at work — a provision that seems very sensible and long overdue.
A delegate from the GMB trade union called on May to take up the cause. "Our new prime minister might be well known for her leopard-print kittens, her leather boots and of course her Jimmy Choos, but if she really wants to advance the cause for women in the workplace, there are two things she can do," Penny Robinson told the conference. The first, she said, "is to make a point of wearing pumps, flats, and comfortable shoes." She continued:
Let the media see that you can be the most powerful woman in the country without needing to wear designer shoes to meet men's expectations. Women are still expected to wear completely inappropriate shoes every day just to make sure that the right image is portrayed for the employer. If anything is truly going to change, we need to deal with the people at the very top. And luckily enough, we now have someone running the country who can set an example for the rest of us by making a point of wearing sensible shoes.
Huh. We would have thought, as prime minister, there were actually many ways for May to "advance the cause for women in the workplace" that have nothing to do with giving up her delightful personal style.