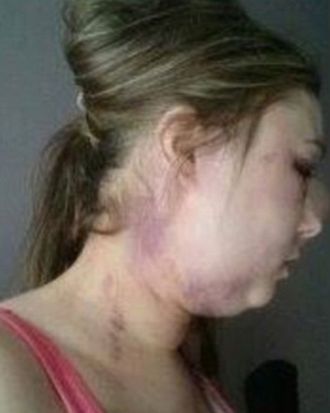 Stephanie Littlewood.
Photo: Courtesy of Facebook/Steph Louise
Stephanie Littlewood, of Leeds, England, suffered horrific injuries after her partner beat her up for refusing to have sex with him.
The 32-year-old mother of one suffered a broken jaw and black eye, had three teeth knocked out, and chipped her front tooth in the April attack by Wayne Hoban, 24. On Wednesday, Hoban was sentenced in Leeds Crown Court to 16 months in jail for the assault, according to the Yorkshire Evening Post.
Littlewood wrote on Facebook that Hoban had been in a "foul mood" the evening of April 2, and that after he turned "angry and aggressive," she refused to have sex with him. He threw her around the bed numerous times, and then walked out, only to return seconds later to beat her up. She said of the attack:
"Seconds later returning ragging the whole quilt off of me and throwing it onto the floor, gripping me by my ankle and pulling me off the bed, throwing me onto the floor he then sat on top of me and strangled me to the floor so [I couldn't] move continuously punching me 40-50 times to the left side of my face breaking my jaw and knocking out 3 teeth (including a back one) also chipped my front top tooth! He knocked me unconscious & continued to beat me!"
Littleton was rushed to the hospital afterward, and six months later, she is still waiting for reconstructive work on her bottom teeth. The gruesome images of her injuries have been shared on Facebook more than 150,000 times, and Littlewood told the Yorkshire Evening Post that she hopes her story helps other women.
"It has helped me so much to come out and talk about what he did to me — the amount of support I have received has been overwhelming," Littlewood told the Post. "I've also had other women who have suffered the same thing get in contact with me to tell me I have helped them to know they're not alone."