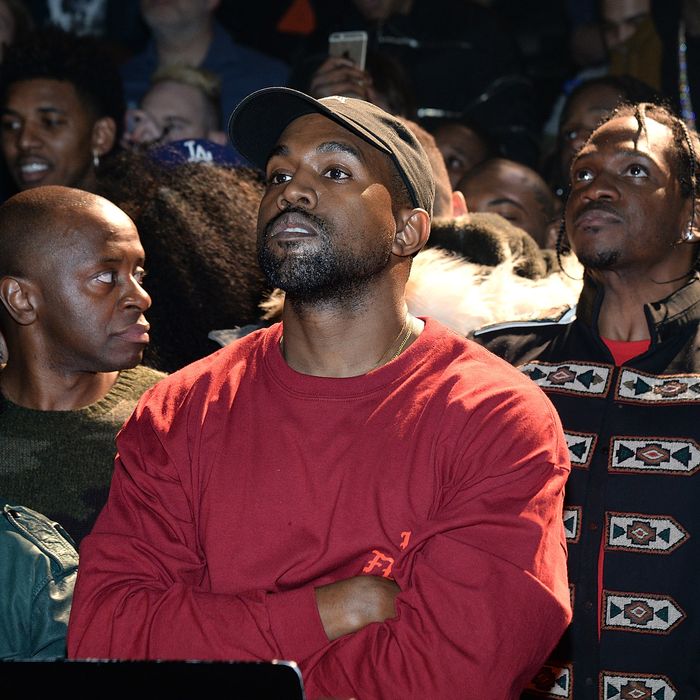 Photo: Kevin Mazur/Getty Images for Yeezy Season 3
Kanye West returns to New York Fashion Week for his Yeezy Season 4 presentation tomorrow, and once again, those not lucky enough to garner an exclusive invitation to Fuccboi Heaven IRL will have the opportunity to watch the spectacle on a livestream courtesy of Tidal, which is determined to be a part of our lives whether we like it or not.
According to a press release, Tidal members will be able to watch the show live here, while nonmembers (and those of us who already used our free trial to stream Lemonade) will be able to see a one-minute preview. It remains to be seen what sort of spectacle Kanye has in mind this year — all we know is that it features, um, "multiracial models" — but if it's anything like last year's Vanessa Beecroft–curated, Kardashian-attended TLOP listening-party extravaganza, it will be worth tuning in for.
As you may recall, last year's livestream was sort of a mess, with massive demand causing the extremely slow load times as well as terrible audio quality. Hopefully this year they've ironed out the kinks, or have at least gotten Kanye a fancier aux cord. We'll be watching!