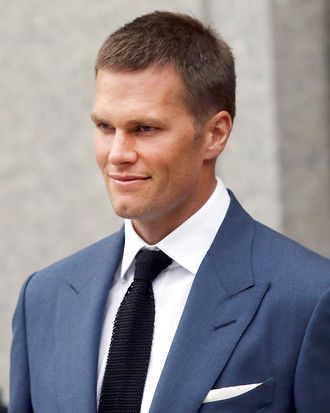 Photo: Spencer Platt/Getty Images
You'll be happy to know that Tom Brady has been making good use of his time off: He got a new haircut.
The Patriots quarterback, who is currently serving a four-game suspension for a ball-deflating scandal that rocked Ben Affleck to his core, has been up to very little while he quietly endures these few mandated weeks away from football. "I don't get the opportunity to do nothing, like I used to," he explains wistfully, slouching in the style of a confident man on an olive velvet couch at the Viceroy hotel in midtown. He smells like clean wood. He looks like a cardboard cutout of Tom Brady. A haircut may have been the first thing he did with his newfound time away from football, but next came a nap.
"I like to take a little nap here and there. Read a book. Definitely listen to music. Anything that is just chilling a little bit." This is what Tom Brady does when he has vowed to "do nothing," the new personal mantra he's adopted during his suspension. UGG, the slipper and boot brand that Brady has endorsed for the past six years, is supporting him in this pursuit, bringing bearded Jeff Bridges and fellow Patriot Julian Edelman along for the wild ride. Together, they are on a crusade to encourage more men who wear slippers to do nothing.
When I ask Brady how many pairs of UGGs he has at his house, he tells me, "I have a lot. More than you could ever imagine." I try to imagine more UGGs than I could ever imagine. He's right — I can't imagine them. "My wife doesn't let anyone wear shoes in our house, so we have a bench, and under the bench is all UGGs slippers." The Brady-Bündch(en) household sounds incredibly relaxing. I ask Brady what he wears to go along with his thousands, potentially millions of pairs of UGGs — what is the best outfit in which to "do nothing"?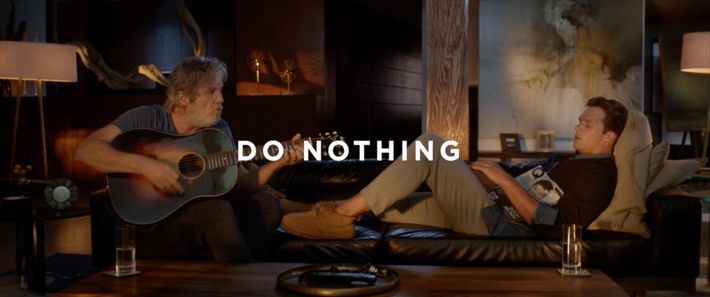 "I have more suits than days of the year that I get to wear them," he says — roughly 10 or 15 days total. "It's just the way it goes." But that doesn't mean that one of the world's best living athletes to play for a Boston team laments not being able to wear a suit. "I'm a pretty casual dresser. At home, it's probably whatever is functional to relax in, whether it's a pair of sweats or a pair of jeans."
Tom Brady, a human who seems genetically engineered to think about nothing but football, is starting to give off a real Jack Johnson vibe during his time away from the field. I begin to worry he might start expounding on the benefits of transcendental meditation or crystal therapy, so I inquire about his infamous health routine. Does Tom Brady ever miss all the good foods he doesn't eat anymore? Would Tom Brady like to, say, eat a bowl of ice cream right now?
"I'm 39 and I get to play football for a living. There are not a lot of people who get that chance," he says, an even more wistful, contemplative twinkle clouding his eyes. "Part of that is because of the way that I treat my body." I release a deep sigh of relief. There's the Tom Brady that the greater Boston area and some of Connecticut loves. "There are not many people who get to play for as long as I have, and I want to be able to show the next generation of athletes that if you follow certain routines and you're disciplined in certain areas, then you could get to do this, too."
But what about relaxing, not wearing suits, going with the flow … doing nothing? The new, extremely chill Tom Brady?
"Do you need to eat a cheeseburger every day to realize that you love a cheeseburger?" he ponders, Confucius-like. "Or could you eat it once a week … or once every two weeks … or once a month … or once every two months?" Tom Brady has learned that he doesn't love strawberries or coffee by never having tried either at all, a commitment no mortal man could ever conceive of pulling off. "I've never eaten a strawberry in my life. I have no desire to do that." Never? "Absolutely not." Brady is magnificently laser-focused for a man who owns more UGGs than any person could ever imagine. "I don't believe you could be a 39-year-old quarterback in the NFL and eat cheeseburgers every day. I want to be able to do what I love to do for a long time."
For this reason, he and Gisele, an entirely ageless supermodel, seem like a match made in heaven — or a Cambridge-area lab. I ask which of the two manages to "do nothing" more. Without equivocating, he responds, "Definitely me." Could he do Gisele's job? "Hell no," he says, again with certainty, like he's thought about trying before. "I'm very efficient in what I do. I don't waste any time or energy anymore doing things that I know don't work. I think she's very much the same way in her job. She's like, 'You do this, you do this, you do that.' That's like us in our house. 'You do that, you do that,'" he says while mime-snapping his fingers, "and I'm like, 'Okay! Okay!'" He laughs. I laugh. More than anything I've ever wanted in my life, I'd kill to be an errant grain forgotten on the floor of the Brady-Bündchen household. Do they really abstain from eating cheeseburgers every day? Is Coldplay really Tom Brady's favorite musical group?
UGGs or no, active player or suspended, Tom Brady is confoundingly still human. When I ask him if, like Tim Tebow, he could imagine tackling a sport other than football, he sits stumped for several long moments, really considering what could be better than being Tom Brady, who he already is. "I've always been the slowest guy on the team, so I'd love to be like Usain Bolt. I'd love to be the fastest guy on the planet." Philosophically, he adds, "When I'm on the field, I sometimes think, Man if I could just run away from everybody, how hard would this game really be?"