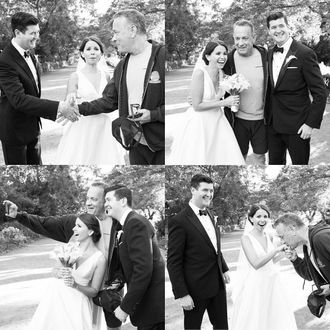 Tom Hanks crashed Elizabeth and Ryan's big day.
Photo: Trumpstinypeepee/Reddit
Elizabeth and Ryan were innocently posing for their wedding portraits in Central Park when, seemingly out of nowhere, they were accosted by a madman looking to insert himself into their big day.
Luckily for the couple, the lunatic was merely actor Tom Hanks, jonesing for his daily attention fix. In a series of pictures, the couple look simultaneously startled, stunned, and excited to have the actor join in on the portraits that will grace their mantle forever, serving as a reminder of the day they became a "throuple" in the eyes of the law.
However, this isn't the first time Hanks has disrupted a wedding, according to the Daily Dot. Back in 1993, when Hanks was filming Forrest Gump in South Carolina, he reportedly sat in his blue Lincoln car, honking the horn at a bride as she walked into a church on her wedding day. He then apparently ran out of the car, said to the bride, "Hey, I'm Tom Hanks, and I just wanted to say good luck!" and then disappeared.
Let this serve as a warning to all brides out there: Tom Hanks is on the prowl for weddings to crash.