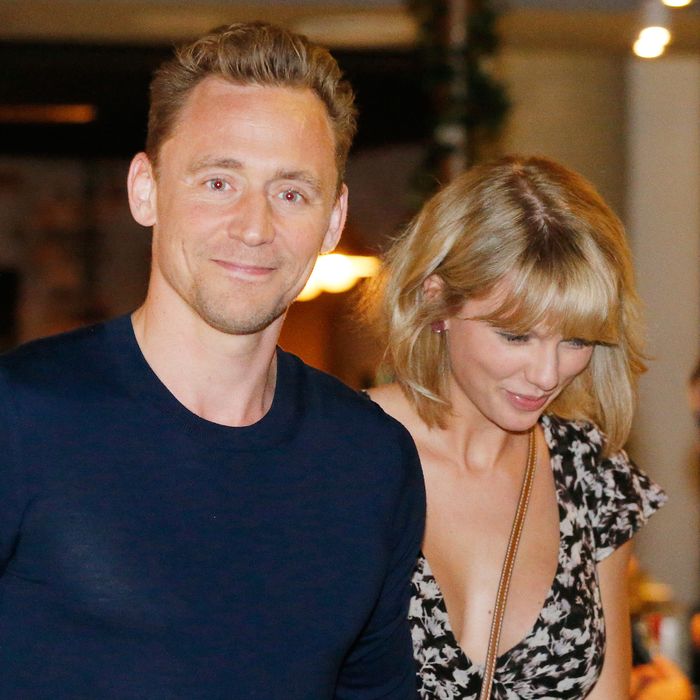 Tom Hiddleston and Taylor Swift.
Photo: Newspix/Getty Images
Tom Hiddleston is on the cover of the newest issue of Interview magazine, thanks to Taylor Swift. His brief relationship with the pop star shot him to new heights of fame, in part because the couple smiled for the paparazzi nearly every day for two months straight this summer. But does Hiddleston discuss Swift in the magazine? No, of course not — that's "private."
The interview was conducted by Hiddleston's good friend Benedict Cumberbatch, and in the beginning of the discussion, Cumberbatch offered him the following:
… [T]here's another weight of us being in the public eye, which is this presumption that, because your work and your promotion work is very public, your private life should be, too. And, without getting into a huge debate, I just want to say that I'm not going to ask questions about my friend's personal life just because there are unsolicited photographs of him and a certain someone, in a relationship or together. I'm not going to get into that. So that door is closed, dear reader.
In response, Hiddleston "chuckled" and said, "Thank you."
The benefit of doing interviews with a close friend is that he will promote the narrative that suits you best. Cumberbatch's assertion that the countless published photos of Swift and Hiddleston were "unsolicited," however, is ridiculous. The first photos of "Hiddleswift" were almost certainly solicited by someone — paparazzi shot the pair making out on a private beach in Rhode Island. Do paparazzi normally hang out on private beaches in Rhode Island, hoping that someday, sometime, they'll see a celebrity? And let's not forget Swift's Fourth of July party — "Taymerica" — where Hiddleston was spotted proudly wearing an "I <3 T.S." tank top for photographers.
When Swift and Hiddleston broke up earlier this month, Swift "sources" told Us Weekly that Hiddleston was the one pushing Swift to take the relationship public. Now Hiddleston's friend is asserting that the publicity was completely out of his control. Both Swift and Hiddleston will continue to blame each other and outside sources for the frenzy surrounding their relationship, but we'll always have their smiling faces in many, many paparazzi photos to show they enjoyed the publicity at the time.