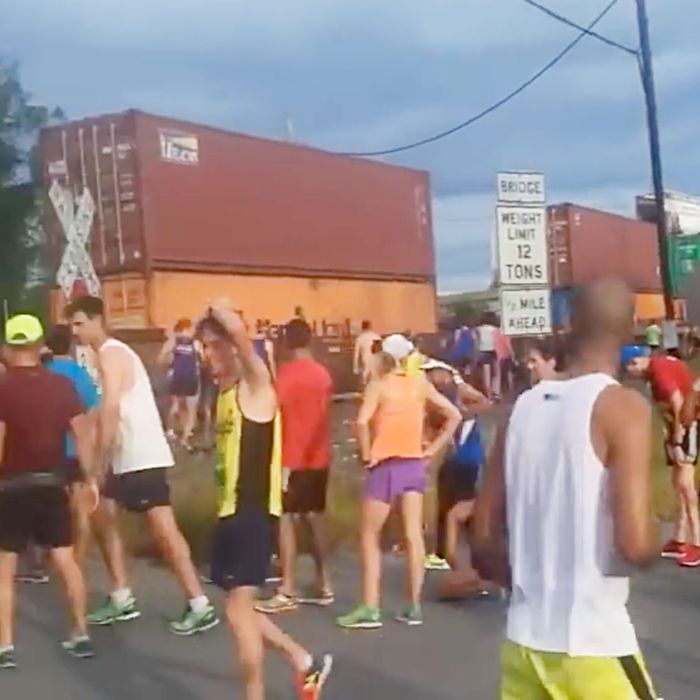 Dashed dreams at the Via Marathon.
Photo: Courtesy of YouTube/LVwithLOVE
Most people spend three to four months training to run a marathon, and even if you're well trained, finishing 26.2 miles can still make your body feel like it's being consumed by lapping hellfire. But some people do this again and again, training to run the distance ever faster, either for personal pride or to qualify for the prestigious Boston Marathon.

Well, lots of runners at Sunday's Lehigh Valley Health Network Via Marathon — which has a flat course advantageous for personal bests and a high percentage of Boston qualifiers to boot — had their time goals literally derailed. By a train. Which wasn't supposed to be on the tracks that day.
The blog Lehigh Valley With Love posted a video of runners being forced to a halt in the seventh mile of the race. (I would be pacing and cursing and maybe crying.)

Organizers said Norfolk Southern Railway had assured them that trains would not be traveling through the area between 7 and 10 a.m. on race day, as had been the agreement for all ten runnings of the event. But somehow, a train was dispatched just before 8 a.m. Both sides are trying to figure out what happened.

Lehigh Valley Live reports that some runners were stopped for as long as ten minutes, while others chose to pretend they were Indiana Jones and risk their lives by jumping between or crawling under the slow-moving cars.
Race organizers issued a statement Monday afternoon telling affected runners to email them with "pertinent data and details" about how the train impacted their time and that times will be "addressed" (adjusted?) on a case-by-case basis. If I know runners, they will be getting an earful — and many, many photos of GPS watch data.