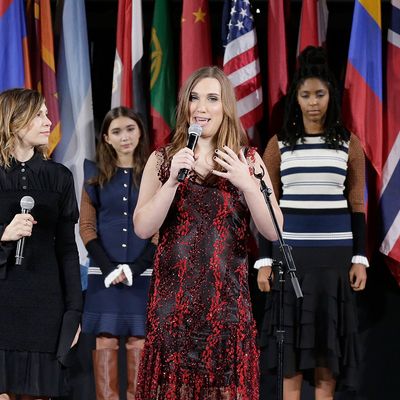 Transgender-rights activist Sarah McBride.
Photo: JP Yim/Getty Images
Opening Ceremony's Pageant of the People during NYFW was certainly notable for its slew of accomplished and funny women discussing a myriad of topics like that whole work/life "balance" thing. It was all part of keeping with the theme of a political pageant, where celebrity guests at the show had the opportunity to sound off on issues dear to their hearts. And, included among the guest "pageant" contestants was at least one non-celeb who's made a name for herself as an advocate for transgender rights: Sarah McBride.
McBride is the current press secretary for the Human Rights Campaign and she made history this summer when she became the first transgender person to speak at a major political convention like the Democratic National Convention. At the Opening Ceremony show, McBride was asked the question, "What does it mean to be an American?" Like any true pageant contestant, she began with "That's a great question," before diving into a lengthy response about the changing notions about who qualifies as an American and what why it's an ideal worth chasing.
"Being an American is an action, it's an ideal to strive for," McBride said. "It's being part of this constantly perfecting union that with each generation expands our scope and human understanding of 'We the people.'" She added that when she came out as transgender four years ago, she worried her dreams and identity were mutually exclusive. Things are changing today, though, she said. She continued:
We must never be a country that says there's only one way to love, only one way to look, and only one way to live. We must be a country where everyone has the freedom to live openly and equally. A country that says that you can be gay, you can be trans, you can be a woman, you can be black, you can be Muslim, you can be anything that this society says is mutually exclusive with dreaming big dreams, you can be any and all of those things and still be seen, still be valued, and still be respected as the equal humans we all are.
McBride's answer on the spot got a heavy round of applause.
Correction: This post has been updated to correct a transcription error.
Additional reporting by Veronique Hyland.