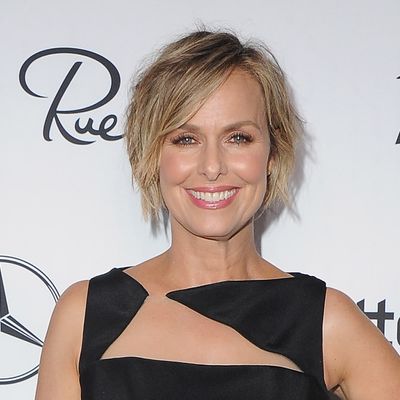 Photo: Jon Kopaloff/FilmMagic
The red carpet can be a minefield for reporters and talent alike, but there are a few tricks of the trade that help calm the chaos. Besides a comfortable amount of eye contact, relatively clean garb, and pointy elbows to help you stake out your space, what you really need are thoughtful questions that will hopefully spark an interesting, if brief, conversation.
Melora Hardin, who plays Tammy Cashman on Transparent, offered some tips on red-carpet etiquette during the Variety and Women in Film's Emmy nomination event sponsored by Mercedes-Benz at Gracias Madre in West Hollywood.
"The questions you would want most asked are the questions that value your intelligence and your contribution, whatever that question would be," Hardin said, adding, "And the questions you would least want asked are the ones that are more superficial. Questions that are directed toward your gender, toward your age, toward your body."
Hardin, who's nominated for Outstanding Guest Actress in a Comedy Series, continued, "I mean, I am definitely a feminist. People don't realize that being a feminist does not mean that you hate men. It means you value women, you value yourself, you value the contribution of half the population, as equal to and just as valuable as, all the men in this country and this world and in our business. I can't believe we are still dealing with this in 2016. I have two daughters, and so I am very passionate about this. I need them to learn to speak up."