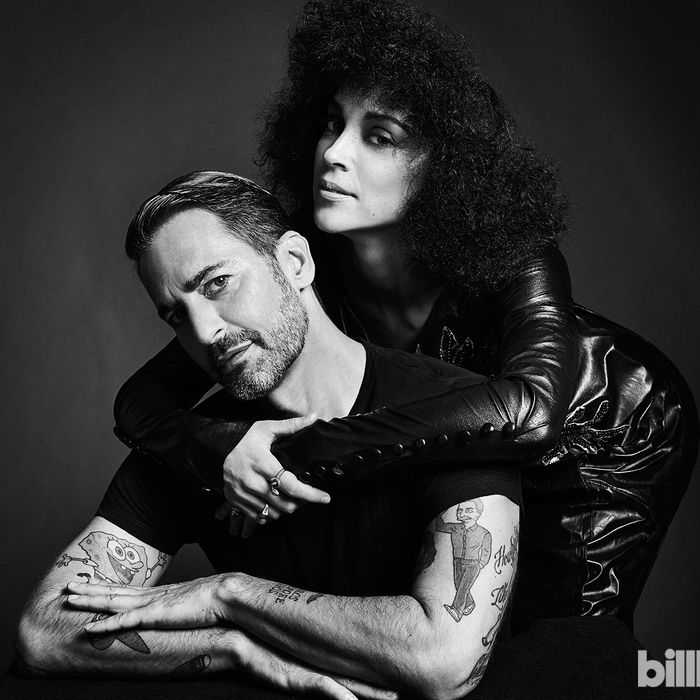 Marc Jacobs and St. Vincent in Billboard.
Photo: Billboard
Marc Jacobs is set to premiere his fall collection on the last day of New York Fashion Week, but on Thursday Billboard released a video that gives us a glimpse of what's to come. In it, stars such as Annie Clark, Susan Sarandon, Cara Delevingne, Missy Elliott, and Marilyn Manson cavort around in sequins, dark leather, and feathers, and Jacobs himself blows an admirable number of smoke rings.
"[It] was like an acid-trip Fellini film, 8½ or Satyricon," Clark, who goes by her stage name, St. Vincent, said of the video shoot. "Genesis P-Orridge was on one side of me, Susan Sarandon on the other, and all these ­gorgeous, statuesque ­redheads milling round. It was lovely to be in the company of real artists and ­genuine, beautiful freaks."
The video is a collaboration between Jacobs and hip-hop guru Harold "Hype" Williams, and it marks Williams's first foray into the fashion world — in turn, Jacobs is the first designer to appear on the cover of Billboard.
As part of the collaboration, Jacobs and the stars of his fall campaign will partner with Apple Music to curate playlists that will be released throughout September. Personally, we can't wait to hear Clark's.