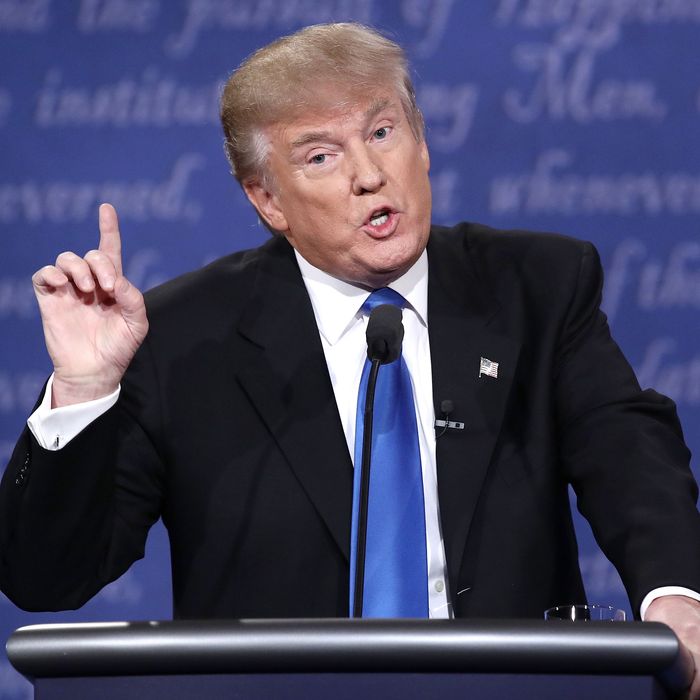 Donald Trump called her weight "a real problem."
Photo: Win McNamee/Getty Images
In 1996 — the year Donald Trump took over the pageant — Alicia Machado was crowned Miss Universe. After her victory, she gained weight.
Trump was not pleased at this new development; he reportedly called her "Miss Piggy" and "Miss Housekeeping" (because she's from Venezuela) and even forced her to work out in front of hordes of press. Hillary Clinton brought up Trump's comments about Machado at the tail end of Monday night's presidential debate, using them to illustrate Trump's attitude toward women. Then her campaign released a well-timed ad featuring Machado, who talks about how Trump called her "fat" and "ugly."
If you thought all this would cause Trump to rethink his fat-shaming comments, you would be wrong. This morning, during a phone interview on Fox & Friends, Trump doubled down on his insults, calling Machado's weight "a real problem."
I know that person and she was a Miss Universe person, and she was the worst we ever had—the worst, the absolute worst. She was impossible. She was a Miss Universe contestant and ultimately a winner who they had a tremendously difficult time with as Miss Universe. She was the winner, and you know she gained a massive amount of weight and it was a real problem, we had a real problem, not only with that but her attitude, and we had a real problem with her. So Hillary went back through the years and found the girl and talked about her like she was Mother Theresa, and it wasn't quite that way, but that's okay — Hillary has to do what she has to do
Maybe she should've tried some hand-waving.