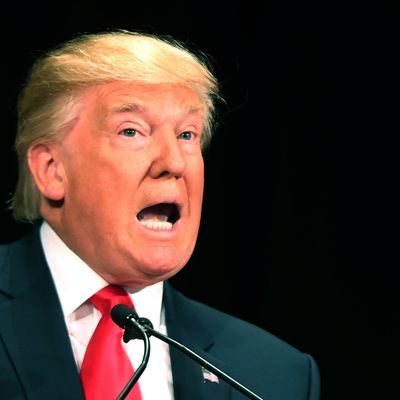 Like father, like daughter.
Photo: Spencer Platt/Getty Images
Earlier this week, Cosmopolitan reporter Prachi Gupta interviewed Ivanka Trump about her father's child-care and maternity-leave policy, which she heavily influenced and has vocally praised. Things got testy pretty quickly, though, when Gupta pressed Trump on things like her father's history of sexism and how, exactly, the policy would be funded.
Ivanka later criticized the magazine on Twitter, saying it should "keep the focus where it belongs — advocating change," and essentially crediting her father for the work of hundreds of women's-rights activists.
Not to be outdone, Donald Trump himself joined the debate on Friday. In a phone interview with Fox Business Network, he criticized Gupta for doing her job as a reporter.
"I heard the person — I haven't seen it — but I heard the person was really rude," he said. "She was like attacked by this rather non-intelligent reporter, really attacked viciously. And I said, 'Don't let it bother you.' I said, 'Welcome to the world of Trump.'"
He added that Ivanka agreed to do the interview, "because she thought the person was a nice person. She did him a favor, because who wants to read it in Cosmo — nobody wants to read it in Cosmopolitan magazine anymore. She did it to be nice." (Trump is evidently unaware that Gupta is a woman.) If there was any doubt Ivanka is Donald's daughter, let it now be laid to rest.