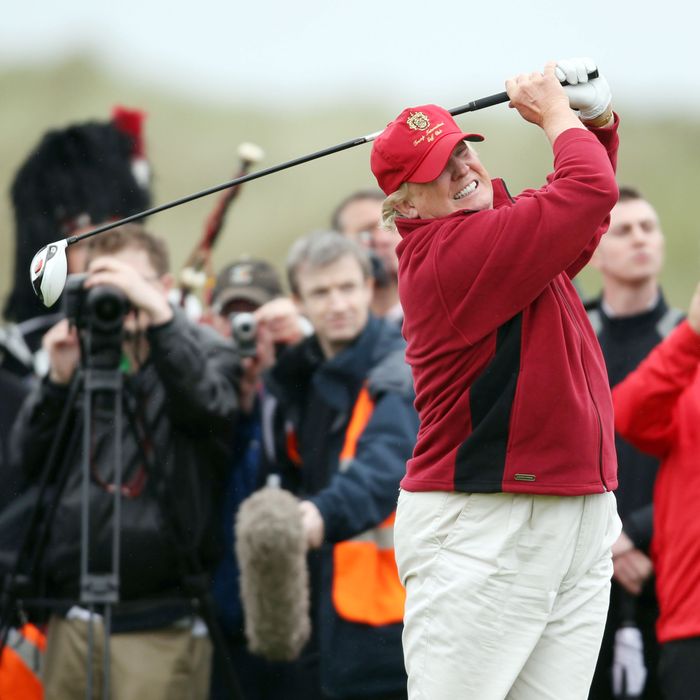 Photo: Ian MacNicol/Getty Images
After Donald Trump opened Los Angeles's Trump National Golf Club in 2005, he made it known that the club should only hire hotties. In court records from 2012 reported in today's L.A. Times, a former employee said Trump repeatedly told managers that restaurant hostesses were "not pretty enough" and suggested they be fired and replaced by women who met his standards.
Over the years, Trump stopped complaining because the club's managers found a way to please him.
"I and the other managers always tried to have our most attractive hostesses working when Mr. Trump was in town and going to be on the premises," a former club restaurant manager says in the court records, which are part of a lawsuit filed by employees who say they were denied breaks.
Employees say the club's restaurant staff was chosen based on looks, not experience or ability, and older servers were given the worst shifts and few hours. Trump also paraded one attractive employee around his friends and creeped out another by regularly asking if she was "still happily married," according to the records. In another instance, a Trump Organization vice-president asked a club manager to fire an employee because she was overweight. And as the VP allegedly told the manager, "Mr. Trump doesn't like fat people."