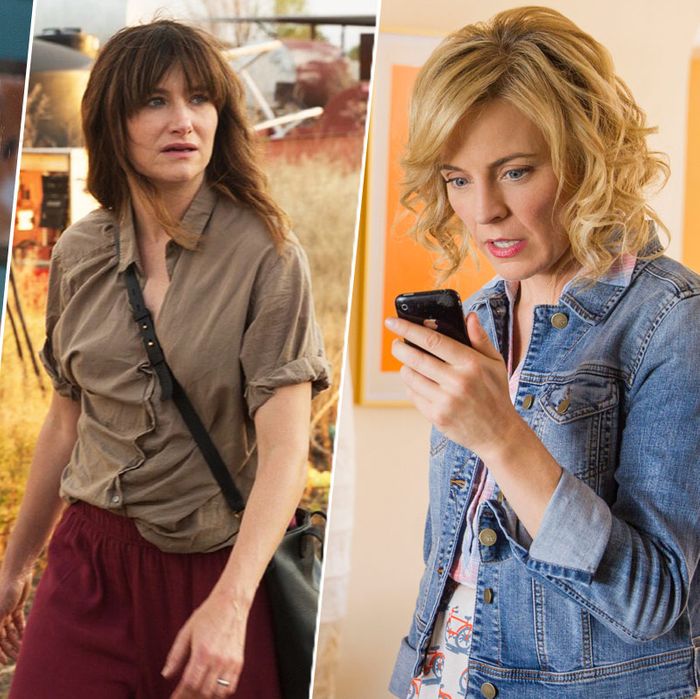 Fleabag, I Love Dick, and Lady Dynamite.
Photo: Amazon, Netflix
On Amazon's new series Fleabag, our protagonist — a sharp, dark-humored young woman we know only as "Fleabag" — sits on a crowded London subway car. Minimal techno music begins to play. Her fellow passengers writhe in unison with the beat, mouths wrenched open and eyes scrunched closed, as if performing some sort of experimental dance show. This goes on for 30 seconds. Is it a dream, we wonder, or perhaps a weird flash mob? Suddenly, Fleabag looks at the camera, fixes us with her gaze, and blurts: "I think my period's coming."
Created by British writer and actress Phoebe Waller-Bridge and adapted from her stage play, Fleabag takes us inside its protagonist's mind and burrows in deep. Fleabag is constantly breaking the fourth wall to address her audience, like a mischievous friend confiding her secrets, from her sexual fantasies to long-held grudges. Yet, while the show has garnered comparisons to Bridget Jones's Diary and Girls, Fleabag is a much darker story. As we learn over the course of the series, our heroine is traumatized by grief and rage — we see fragments of her harrowing past bubble up in disjointed fragments — and she seems to get more and more uncomfortable addressing the audience directly as the show progresses. Her sex life, initially a source of laughs (like when her boyfriend dumps her for masturbating to Obama), begins to look like something much more fraught. Watching the show, I was struck by how uncomfortable it felt to be inside her slippery brain, and how much empathy and identification I felt thanks to the intensely intimate way her story is told.
So-called "confessional" essays and memoirs have long been seen as women's purview, and filmmakers telling women's stories onscreen have often used first-person framing devices, like Carrie's newspaper columns in Sex and the City. Yet a new group of niche, voice-y half-hour comedies (the genre of our time!), largely on cable and streaming networks, are taking this strategy to an invigorating extreme. Characters who might have once been relegated to the role of quirky sidekick now have their stories front and center, and creators are using unconventional storytelling and stylistic devices — dream sequences, hallucinations, breaking the fourth wall — to force viewers to step inside these heroines' minds.
There is perhaps no better proof of the brave new world we're living in than the existence of I Love Dick, a show that any sane person might have assumed was impossible to adapt for television, given that (a) it's a work of feminist theory and (b) it takes place entirely within the confines of one woman's obsessive brain. So far we've only seen the pilot, but already showrunner Jill Soloway has suggested how she's going to make this work, with camera tricks and narration tactics that give us the perspective of narrator Chris Kraus. Following the success of her groundbreaking (and deeply personal) Transparent, Soloway spoke to me about her efforts to bring the inside of Kraus's mind to life, saying: "I feel like I'm going on a bit of an archaeological dig to figure out what [the female gaze] is … It's gazing at patriarchy, gazing at the gaze."
Or take Lady Dynamite, a show that Soloway said inspired her with its ability to take viewers inside protagonist Maria Bamford's head. Bamford, a beloved figure in the stand-up world, suffers from bipolar disorder and OCD and has been hospitalized numerous times. In Lady Dynamite, the chaos within Bamford's mind informs not just the show's subject matter but its very structure. The show shifts between three different time periods, all shot in different color schemes, and also between the real and surreal, constantly breaking the fourth wall and getting meta about its existence. Bamford turns into a sheep. A car rides off into the sky.
"It's a new frontier that we're able to do that as women, to go inside the mind of insanity and shoot it and distribute it," Soloway told me of Bamford's show. "Very recently I was told 'You can't write crazy people' and 'You need a relatable white male protagonist at the center of your work if you're going to have any success.' I think that's all changed in the past few years."
Of course, not all of these shows are forays into "the mind of insanity." But what they are is warts-and-all explorations of the female psyche, by female creators, which often means grappling with uncomfortable or rarely talked about subject matter in interesting ways. Rebecca Bloom's Crazy Ex-Girlfriend explores its protagonist's inner life, including her mental illness, through elaborate song-and-dance numbers that seem to spring directly from her subconscious. Waller-Bridge's Fleabag is one of the most raw and unflinching examinations of a woman's sex life I've ever seen onscreen (and Fleabag is much better at breaking the fourth wall than Frank Underwood). Pamela Adlon's Better Things is a realistic look at the trials of single-motherhood, communicated through vignettes and dream sequences and nonlinear narration. (While all of the women I mentioned are white, Issa Rae's Insecure, out October 9, is a welcome outlier and by all accounts excellent.) As a whole, TV is getting more innovative and experimental, and it's not just female creators who are leading the charge. Yet perhaps because female stories have so often been elided, or because there's a higher barrier to entry for female creators — or maybe because women have felt the need to be twice as funny and twice as good — a majority of our most exciting storytelling experiments on the small screen come from female creators telling distinctly female stories.
One of the strongest offerings is One Missisisppi, from comedian Tig Notaro. In the half-hour Amazon comedy, Notaro deals with the same autobiographical subject matter she has addressed in her stand-up and other recent TV projects: the worst year of her life, in which her mom died, her girlfriend dumped her, and she was diagnosed with both a life-threatening bacterial infection and breast cancer. It also deals with some new material, which is not autobiographical as far as we know; over the course of the series, we learned that Tig-the-character was molested by her grandfather when she was young. In one scene, Tig visits her mother's grave site, where she meets an apparition of her mom, lounging across her headstone. Tig expresses her regret at the secrets kept between them, and ghost-mom grabs a pillow and blanket. "We are going to tell each other everything now!" she says. They start gabbing about their first sexual encounters — her mother's, a romantic affair; Tig's, a childhood rape. "I guess I got swept off my feet, too, but in the literal sense, because I was so tiny!" says Tig, deadpan. All of a sudden, another woman in pajamas pops out from behind a gravestone. "Mine was a whole group of boys. I got so much attention! That's how I got here." More and more women come out from their graves, sharing stories of graphic sexual assault in the gleeful tone of girls at a slumber party. It's a remarkable scene that's doing a lot at once: exploring intensely traumatic subject matter while still maintaining Tig's wry, absurdist voice, seamlessly blending tragedy and farce.
Many of these women were already well established before they got the chance to tell their stories on air, and several are close collaborators who have appeared on each other's shows (many have also worked with Louis C.K.). Adlon has played a variation of the same character on Louie for years, and Lucky Louie before that; Bamford had explored her mental illness and dysfunctional family both in her stand-up and web series; Tig has told the story of her Very Horrible Year in so many media that, as much as I loved One Mississippi, there were times where I got déjà vu while watching it. The Broad City girls had a web series, as did Issa Rae; Waller-Bridge already had a full stage show before Fleabag was green-lit. While it's great to see their work getting attention, it's also much lower risk for networks to take on female-driven narratives that have strong proofs of concept or established comic brands bolstering them from the get-go. Of course, things are evolving; In the wake of Transparent, Amazon inked a deal with Jill Soloway's feminist production company, Topple, to tell all sorts of female-driven stories. Let's hope that fresh, distinctive new voices like Waller-Bridge get similar opportunities. Appreciating women's stories is a start, but the real magic happens when we acknowledge that they have more than one story to tell.