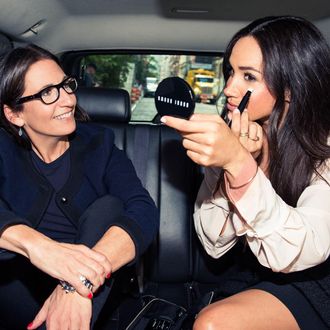 Bobbi Brown, esteemed makeup artist and entrepreneur, in an Uber.
Photo: Courtesy of Bobbi Brown
What you do in an Uber is between you, your driver, and your passenger rating. That is unless your Uber happens to include makeup artist legend Bobbi Brown. Then it becomes a party and a crash course in makeup application.
On September 22, from 5 p.m. to 9 p.m., the makeup titan will accompany riders who request Uber black cars in New York City. During the course of each trip, she'll shower passengers with tips, as well as her brand's Retouching Wands and Retouching Face Pencils — two creamy formulas that conceal everything from under-eye circles to zits. Not everyone who requests the car will be able to ride with Brown, of course. Twenty of her makeup artists will also be on hand, in both Los Angeles and New York, to accompany riders.
The partnership is pegged to the aforementioned new retouching tools. Peter Lichtenthal, president of Bobbi Brown, described them to WWD as "products for busy women to touch-up in an on-the-go way."
In each ride, you can ask the makeup artists anything, but maybe don't mention contouring. In Bobbi Brown's universe, contouring is a four-letter word.