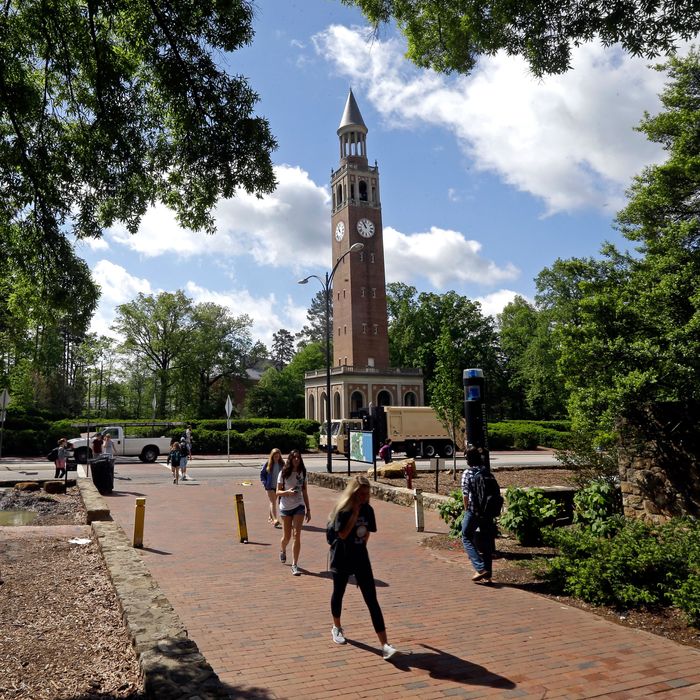 UNC Chapel Hill.
Photo: Gerry Broome/AP
On February 14, 2016, University of North Carolina at Chapel Hill sophomore Delaney Robinson says she was raped by junior Allen Artis, a linebacker on the UNC football team. She says that she reported the assault, went to the hospital for a rape kit, and "did everything a rape victim is supposed to do." Still, she says, six months later, the university has failed to take any action — which is why she went public in a press conference on Tuesday afternoon.

Per Robinson's statement, she says that the Department of Public Safety interrogated her and victim-blamed her when she gave her account of the night, treating her "like a suspect."
"After I was raped, I went to the hospital and gave an account of what I could remember to the sexual assault nurse. Then I was again quizzed by the DPS investigators, who consistently asked humiliating and accusatory questions. What was I wearing? What was I drinking? How much did I eat that day? Did I lead him on? Have I hooked up with him before? Do I often have one night stands? Did I even say no? What is my sexual history? How many men have a I slept with? I was treated like a suspect."
On the contrary, she says that her alleged rapist was spoken to "with a tone of camaraderie" and reassured, even being told "don't sweat it, just keep on living your life and playing football."
"My humiliation turned to anger when I listened to the recorded interviews of my rapist by DPS. Rather than accusing him of anything, the investigators spoke to him with a tone of camaraderie. They provided reassurances to him when he became upset. They even laughed with him when he told them how many girls' phone numbers he had managed to get on the same night he raped me. They told him, 'don't sweat it, just keep on living your life and playing football.'"
Her father, Stacey Robinson, and attorney, Denise Branch, also gave statements on Tuesday afternoon. Branch noted that Robinson's physical exam following the reported incident "revealed vaginal injuries consistent with blunt force trauma and bruising consistent with a physical assault." She also says that the Orange County district attorney had proclaimed "unconsciousness is rape, black out drunk is not rape." (Robinson admitted she had been drinking that night.)
Orange County DA Jim Woodall, for his part, told ABC11 Tuesday that the case was "investigated thoroughly."
A self-sworn warrant has been issued for Artis's arrest.