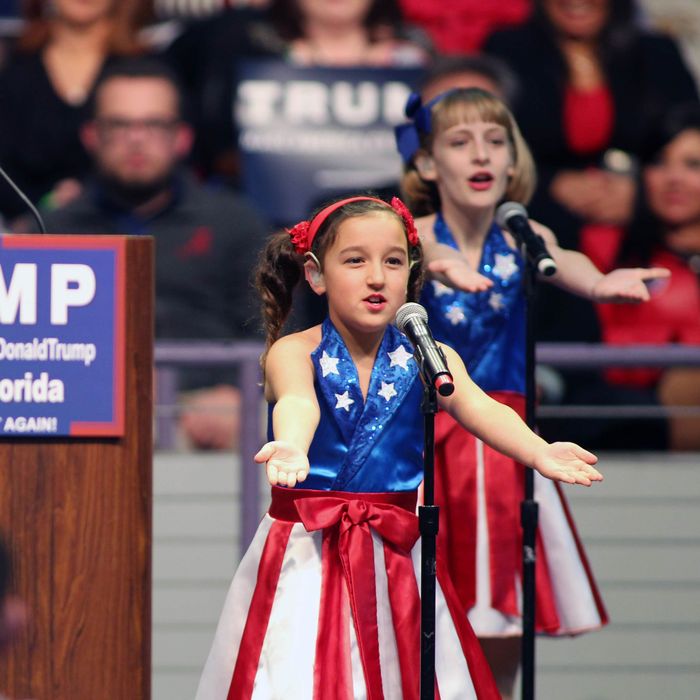 The USA Freedom Kids perform at a Trump rally.
Photo: Michael Snyder/AP
The USA Freedom Kids, a music group known for such memorable lyrics as "Cowardice, are you serious?" "Apologies for freedom — I can't handle this!" "President Donald Trump knows how to make America great," and "Deal from strength or get crushed every time," have officially turned on their orange-haired benefactor. A performance at a Trump rally in Pensacola, Florida, launched the group into the public eye, but the group's manager, Jeff Popick, is now suing the Trump campaign, claiming it reneged on a verbal agreement to pay for travel and expenses.
According to Popick, a field director for the Trump campaign said they weren't able to pay the girls, but offered them a space to sell merchandise at the rally. Figuring they could make up the difference with T-shirt and CD sales, Popick agreed, but when he arrived at the rally no such space was available. Worse, after the girls performed, they returned to their car to discover all their merchandise had been stolen.
For any lesser group, that would've been it. But, encouraged by the promise of future gigs, the Freedom Kids agreed to appear at a Trump rally in Iowa — only to have the Trump campaign cancel on them after they'd flown cross-country. Then the campaign made them agree not to talk to the press, which was the last straw.
"This is not an opportunistic thing where we're suing Donald Trump," Popick told the Daily Beast. "We're not suing for emotional distress and all that other stuff that people do when they trump up — no pun intended — when they trump up a lawsuit. That's not what this is. This is tangible dollars I spent under false pretenses." At least Trump is keeping the girls' expectations realistic.