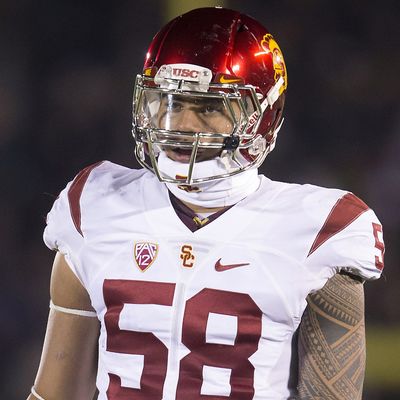 Osa Masina.
Photo: John Mersits/AP
In Utah, 19-year-old Osa Masina, a University of Southern California football player, is facing charges of rape and forcible sodomy following an alleged assault of a 19-year-old woman early on the morning of July 26. He's also being investigated for a sexual assault of the same woman from July 14.
Per the Salt Lake Tribune, court documents state that Masina and the victim went to a house party in Cottonwood Heights, Utah, on the night of the 25. During the early hours of the next day, they went to a fast-food restaurant, then back to the house, where the woman fell asleep.
She awoke, the charges state, with Masina having sex with her, which the woman said "hurt [her] so bad."

"Due to her intoxicated state, all she felt capable of doing was moving her legs to try to lessen the pain," the charges state. "She heard Masina laugh, and he continued."

The woman passed out again and next awoke to Masina engaging in forcible oral sex with her, the charges state. "She could not breathe or talk."

According to the documents, she was bleeding and had damage to her teeth's porcelain crowns.

As for the July 14 assault, charges haven't been filed yet, but Masina and teammate Don Hill are accused of giving the woman alcohol, marijuana, and Xanax before assaulting her while she was visiting California. Masina also sent a Snapchat video of the alleged assault to the victim's ex-boyfriend.
Masina and Hill were both suspended from the football team, and Masina is barred from campus. He turned himself into police in Utah and is currently being held for $250,000 bail.