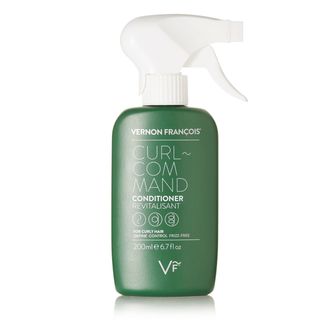 Vernon Francois Spray Conditioner
Is the hair industry on the brink of a seismic shift? It's a thought I've been mulling over lately when not one, not two, but three different women with full, bouncy curls you'd consider stealing told me they avoided heavy oils. For them, coconut oil is a four-letter word. Shea butter is verboten. Jojoba? Please. It was during this period that I was also introduced to Vernon François's inaugural hair-care line, which is full of lightweight spray conditioners that you rinse off in the shower. Heavy conditioners are at death's door, I say.
First, some context. François is a bit of a natural-hair-care wunderkind. The U.K. native recalls working on his first head of natural hair at 8 years old, and in the years since, has called Lupita Nyong'o, Kerry Washington, and Uzo Aduba his clients. His eponymous line, launched this month, was designed with "textured" hair in mind — think wavy, curly, and super-coily. There's a "Dazzling Spritz Shine Spray" that is essentially a highlighter for hair. Swirls of mica are suspended in the bronze formula that glimmer delicately when misted. There are shampoos and moisturizers in the line as well, but the spray conditioners eclipse them all in creativity and utility.
Vernon François carries three conditioners that are targeted to treat damaged, coily, and loose curly hair. For the most part, the formulas are virtually identical, save for a few variations that are said to address specific needs (the damaged conditioner includes proteins to help strengthen strands, for example). My curls sit somewhere in between curly and coily, but I settled on testing the "Curl Command" conditioner, which is recommended for curly hair.
The conditioner is easy to apply. After shampooing, you are instructed to separate hair into four areas and spray the vetiver-scented formula throughout. The spray, François says, is intended to ensure a more even distribution. There are some oils in the sprays (both coconut and jojoba make an appearance), but they are in scant amounts. I typically leave the formula in my hair for a few minutes before rinsing, though the instructions don't indicate a specific length of time that the conditioner should stay on hair.
Here's what the spray doesn't do: weigh hair down, take forever to dry, and build up on your scalp. Are there masks that offer better conditioning? Of course, but for individuals who have curly hair that requires frequent conditioning but fear drab, heavy curls, it's a wonderful solution — a conditioner that springs curls to life.
Vernon François Curl Command Conditioner, $40 at Net-A-Porter.