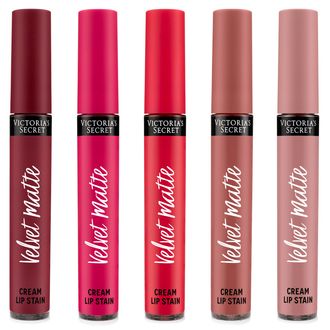 Victoria's Secret Velvet Cream Lip Stains.
Long before I could fit into any of their bras, I shopped Victoria's Secret just for beauty. Their lotions and body spritzes struck the perfect note of imposing fruitiness — tart apple and tangy pear were my signature scents. When you're a tween you love these things — in fact, the sweeter, the better. In the decade since I haven't touched the crop of Victoria's Secret beauty stock, but a new product has reeled me back.
Matte-liquid lipsticks aren't new — ColourPop and Too Faced did creamy versions recently — but they continue to draw enthusiasm because they consistently deliver universally flattering finishes. This is where Victoria's Secret comes in: The lingerie brand is diving into the matte-liquid lip category with their new Velvet Matte Cream Lip Stains. Their lateness to the trend has allowed them to innovate. Each of the five shades paints a full blanket of color on lips in one application, without leaving the lips dry. The finish is matte, and even after a few hours of use, the lip stain won't cake or crust around lips. Vitamin E and and olive oil in each tube keep lips from shriveling like raisins. Did I mention the formula isn't sticky? That's important.
Each of the available hues — a deep blackberry, a bright fucshia, a rosy nude, an electric cherry, and a dusty pink — feels smooth and plush on lips. I'm not sure why Victoria's Secret calls them lip stains — they are far more pigmented and akin to lipsticks. But that's small potatoes. They're one of the best matte lip varieties to launch this year. By the way, they smell like caramel and vanilla candies.
Velvet Matte Cream Lip Stains, $14 at Victoria's Secret (in October).