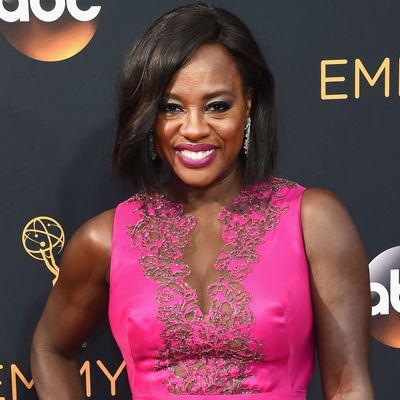 Viola Davis.
Photo: Michael Kovac/Getty Images for AXN
Viola Davis, inspirational role model, purveyor of wisdom, and facilitator of epic Halloween costumes, seems like a pretty great mother — which doesn't mean she isn't capable of making mistakes that will haunt her child for the rest of her life. Recently, Davis committed an unforgivable parenting faux pas when she refused to let her 6-year-old daughter, Genesis, attend a Beyoncé concert.
"She's 6 years old and her latest thing is Beyoncé," Davis explained on Ellen. "She wanted to go to a Beyoncé concert and we said, 'No. You cannot go to Beyoncé, Genesis.'"
Her daughter had an appropriately outraged response. "She went, 'No! you don't know what Lemonade means to me, Mom,'" Davis recalls. "'You don't know what Beyoncé means to my life!'"
Luckily, the Formation World Tour has a few more dates left, so it's not too late to right this wrong. Viola, if you need someone to chaperone Genesis to MetLife Stadium on October 7, I happily volunteer my services.