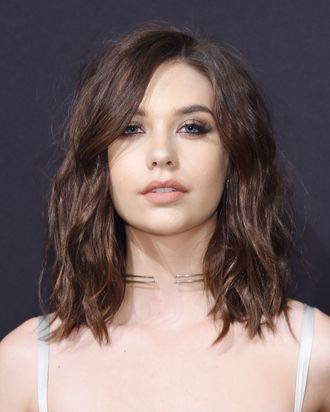 Amanda Steele is co-leading her first Fashion Week show.
Photo: Jamie McCarthy/Getty Images for Maybelline
Amanda Steele made her first YouTube video when she was 10 years old. Seven years later, the 17-year-old has almost 3 million YouTube followers and 2.7 million Instagram followers, and tomorrow, she'll be be first-ever social-media personality to lead the makeup for a fashion show.
More specifically, Steele, who is also an IMG model, will be co-leading the makeup with Gato, Maybelline's makeup artist for Spain, for the Rebecca Minkoff show. The two will work together with Minkoff to devise the makeup look, select the products that go into it, and approve the work of other makeup artists on the team. Although YouTube sensation Michelle Phan was on the makeup team for the fall 2010 Michael Kors and Chris Benz shows, this is the first time that a social-media star of this generation is co-leading an actual runway show. It's been a good week for the youth.