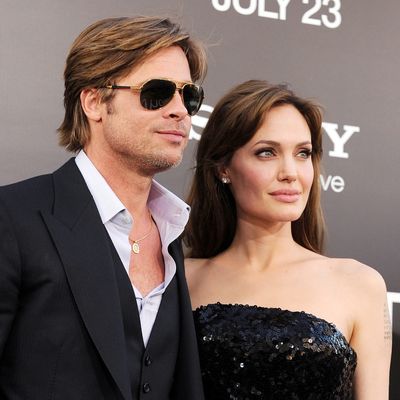 Brad Pitt and Angelina Jolie.
Photo: Kevin Winter/Getty Images
Since Angelina Jolie filed for divorce from Brad Pitt last week, both stars have tried to discredit each other in the gossip press, with varying degrees of success. They may decide to quiet down now, however, because People exclusively reports that Pitt and Jolie have begun negotiating their custody agreement privately. "The two are now deep in private negotiations," the tabloid asserts.

The rest of People's report cites legal experts explaining why it will be "extremely difficult" for Jolie to negotiate full custody of the children, which is what she wants to do. This is unsurprising given that People has been in the tank for Pitt since news of the divorce broke last week. Will it actually be extremely difficult? You'd have to ask a legal expert who doesn't care about the Pitt-Jolie divorce, and I don't think that kind of legal expert is interested in talking to People. Regardless, if these private negotiations work out, we'll probably never find out what happened during the marriage, generally, and on that plane, specifically. If the negotiations break down, however, Pitt and Jolie will keep leaking to the tabloids until one of them gives up. We'll see.